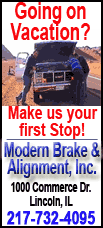 A glance at the statistics for Lincoln and Lanphier indicates the odds are pretty good.
"Obviously we need to correct some errors that we're making, but overall I've felt like the kids are playing pretty hard," Railer head coach Jared Shaner said. "Like I told the kids this week, I think the team that makes the fewer mistakes is probably going to win."
Lanphier comes into the contest with an overall record of 1-4, including a 1-3 mark in the Central State 8. The Railers enter with records of 0-5 and 0-4, respectively.
Lanphier scored an average of 16.8 points in its five games this season while giving up an average of 41 points. Lincoln on average has scored 10 points less per game (six points per contest) than Lanphier, but it has also allowed 10 points less per game defensively (31 points a game) than the Lions.
So, given the seeming parity of the two teams, is Railer head coach Jared Shaner predicting a victory this week?
"I don't usually make a lot of predictions, but they're definitely a team that we're capable of beating," Shaner said. "We've pushed the kids hard this week and let them know that this is a game that they can come out and win. But Lanphier feels the same way (about Lincoln), so it will be a battle."
Lanphier is led by all-purpose junior back Tommy Moore. Moore, the son of former Railer coach Ed Moore, leads the team with 161 yards passing and 328 yards rushing.
"Tommy Moore is their 'do-it-all' kid," Shaner said. "He's their quarterback, he runs the ball, he's on defense and punt returns.
"His dad coached here for five years with John Oaks, and I coached with them for three years. I'm very good friends with them, so it will be fun to go down and play them."
As always, Lincoln Daily News will simulcast the WLCN-FM 96.3 broadcast of the game, starting at 6:45 p.m.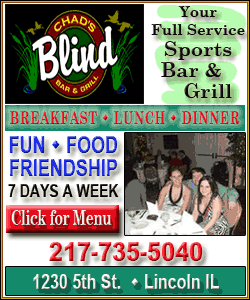 NOTES:
Lanphier running back Malcolm King, who has missed time this season, is expected to be in uniform against the Railers. King, a 5-foot-8 junior, has gained just over six yards per carry this season (286 yards on 47 carries) and scored two touchdowns. "If he's back, I'm sure they'll give him the ball quite a bit too," Shaner said.

Shaner said Railer senior running back Jase Camp is likely lost for the season as he continues to recover from injuries suffered on a first-half kickoff return against Sacred Heart-Griffin earlier this season. "They're just very worried about where the break was, how it was broken and any contact possibly puncturing a lung; obviously they don't want that to happen," Shaner said of Camp, who played in the second half of the Griffin game in which he was injured. "He's out of PE, he's not supposed to jog out to his car, he's not supposed to do any physical activity at all right now. I'm pretty sure he's probably done for the year."
[By LOYD KIRBY]