Holy Family Parish, New Holland firemen, Logan County CROP Walk, calligraphy class and Biking Blast in Close Up
By Mike Fak
[October 02, 2009] Saturday the Holy Family Parish Fall Festival will be held at the Knights of Columbus hall at 217 Limit St. in Lincoln. The public is invited to this fun, family-oriented day. There will be ethnic foods, inflatables, silent auction, 50-50 drawing, karaoke, basket raffle and parties for sale.
---

New Holland firemen's breakfast is Sunday, Oct 4. The menu will include bacon, scrambled eggs, sausage, biscuits and gravy, and French toast. All proceeds will go to the New Holland Volunteer Firemen. The price is a donation. The event will be held at the New Holland Fire Department between 7 am-noon.
---

The Logan County CROP Walk will be at Kickapoo Creek Park on Sunday, Oct. 4, beginning at 1:30 p.m.
This year the funds from the community walk will be combined with the Lincoln Correctional Center Pre Release Center's CROP Walk, which was held at the prison last Sunday. The funds generated by both walks will be shared between the Community Action Food Pantry and the Lincoln/Logan Food Pantry at the First United Methodist Church of Lincoln.
Containers will be available on the day of the walk for donations of food as well as the cash gifts. These too will be shared equally.
Any food item is appreciated, but especially requested are "meal dishes" -- meals in a can or box; peanut butter; canned vegetables, all kinds; fruits, all kinds; spaghetti sauce; macaroni and cheese; pasta; cereals; tuna; jello; puddings; soups; and sauces. Baby food is always welcome. Garden produce and other perishables can be shared also.
---

Registrations for a calligraphy class are being accepted at Lincoln Park District. This elegant art of handwriting is being taught by Harry Tibbs. Harry is a retired graphic artist and an accomplished calligrapher. The four-session class, one hour each week, will begin Tuesday, Oct. 20, at 7 p.m. You'll finish just in time to be able to produce your own beautifully scripted holiday envelopes. This is an art that can be used many times throughout the year. Preregistration is strongly recommended so that ample supplies will be available. An introductory calligraphy pen and paper will be provided.
---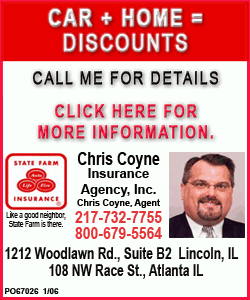 Biking Blast -- This family bike ride sponsored by the YMCA has been rescheduled for Sunday, Oct. 11. There will be well-marked courses of five miles with great scenic routes for the entire family to enjoy and approximately 30 miles for the enthusiasts. Ride will start at the YMCA Activity Center on Wyatt Avenue at 12:30 p.m.
---
Got a good piece of news, information or something that we can all brag about? If you do, e-mail Mike and let us tell everyone about it. Plus you can win cash. Every submission, whether we use it or not, will get your name in the "Close Up" grab bag. At the end of the month we will draw a name and someone will get $25 just for dropping us an e-mail. If you wish, we will be happy to donate your winnings to the organization of your choice.
You can contact Mike at mikefak@lincolndailynews.com.
[By MIKE FAK]