Park district notes
From Roy Logan, program coordinator
Send a link to a friend
[October 07, 2009] Learn the basics of floral design through the Lincoln Park District. Instructor Crystal Tibbs will teach you how to design and arrange flowers. Many of you will remember Crystal for her years of running Flowers by Tibbs and Weddings by Crystal. She'll share over 36 years of design experience. Using baskets, vases and wreaths, this make-and-take class will teach you the how-to. Classes will be two Saturdays, Oct. 17 and 24, from 9 to 10:30 a.m. in the Craft Room. Nearly all of the basic supplies will be provided. Participants may want to bring their own specific container and Crystal will help them make their arrangements.
Registrations for a calligraphy class are being accepted at Lincoln Park District. This elegant art of handwriting is being taught by Harry Tibbs. Harry is a retired graphic artist and an accomplished calligrapher. This four-session class, one hour each week, will begin Tuesday, Oct. 20, at 7 p.m. You'll finish just in time to be able to produce your own beautifully scripted holiday envelopes. This is an art that can be used many times throughout the year. Preregistration is strongly recommended so that ample supplies will be available. An introductory calligraphy pen and paper will be provided.

Through a very generous donation from Kroger's, we are offering a pumpkin carving program. This will be hosted on Saturday, Oct. 24, from 1 to 3 p.m. in the Craft Room. The program is for third- through fifth-graders, and parental involvement is encouraged. Carving kits and templates will be provided. A snack will be furnished too. Participants are advised to wear suitable clothing since this is a messy event. Please call the park district at 732-8770 to preregister since class size will be limited. Carvers will be able to take their pumpkins home with them that day.

In order to offer this class at the most inexpensive price possible, I need pumpkin growers to donate a total of 25 pumpkins suitable for jack-o'-lanterns. Even if you have only a few you could donate, your gift along with those from other growers would yield us enough. Any extra donations could be used to decorate for Halloween FunFest. We would accept your donations any time from Oct. 19 on. If you would need us to come to your home to pick them up, we are willing to do that. Call 732-8770 and ask for Roy or Christine to make arrangements.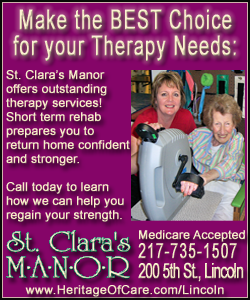 Along with our Halloween activities we are sponsoring an outdoor home decorating contest for the third year. If you have decorated your house or lawn for Halloween, sign up to win. Be scary, funny or be creative. If you can do that, then your home is exactly what we are looking for. You will compete against other Lincoln residents. You must be signed up by Oct. 21. You may call the park district or sign up online at www.lincolnparkdistrict.com and go to the "Contact Us" page. We will need your name, address, phone number and a brief description of your theme or decorations. Judging will be on Sunday, Oct. 25, after dark. Winning houses will have a first-, second- or third-place sign delivered to them to proudly display in their front yard. This is a free contest and winners will be announced in the local media.
We have been so pleased with the response to our membership incentive during September that we are extending it through October. So "Fall into Fitness" with us. If you join the Sports Center anytime before Oct. 31, you can earn extra membership time for free. If you join for three months, we'll add an extra week. If you join for one year, we'll add an extra month. For example, if your membership doesn't expire until Nov. 30, just renew and we'll add the extra time to the end of that. Nonmembers as well as current members can take advantage of this special offer.
[Text from file received from Roy Logan, Lincoln Park District]