ALS fundraiser in Elkhart, genealogical society, Toys for Tots, Child ID Day and Jaycees Haunted House in Close Up
By Mike Fak
[October 13, 2009] "Fired up about ALS." Hudson's Talk of the Town restaurant in Elkhart is holding a bonfire, food and drinks day on Sunday, Oct. 18, from 2 till 6 p.m. There will be fire truck tours for kids, cookbook sales and fun. Proceeds will benefit the family of Michelle Conrady-Brown. More details later in the week.
---

The Logan County Genealogical & Historical Society will meet Monday, Oct. 19, at 6:30 p.m. at 114 N. Chicago St. in downtown Lincoln. Shirley Bartelmay will present a program about Postville Courthouse and the Logan County one-room schools she attended. The public is invited to attend.
---

The Logan County Toys for Tots organization has begun its annual toy drive and distribution. A meeting of the participating organizations is scheduled for 5:30 p.m. Wednesday, Oct. 14, at the Lincoln Rural Fire Department facility on Postville Road. Businesses and organizations interested in helping with the 2009 campaign are welcome to send a representative.
---

Thursday, Oct. 15, is Child ID Day at the Lincoln Public Library, sponsored by youth services at the library. This is in partnership with the Lincoln Police Department to provide emergency identification packets to parents. Parents of children ages 3-13 are asked to bring their children to the Lincoln Public Library Annex between 4 and 6 p.m. A police officer will take digital fingerprints and photo. There is no charge. Parents must bring child's date of birth and Social Security number. Completed packets are kept by the parent.
---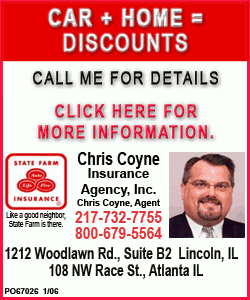 "Your Final Judgment" Haunted House by the Lincoln Jaycees is currently running. The public is invited to attend this fun-filled Halloween event. The Lincoln Jaycees' annual tradition is back again at a new location, 390 Limit St., next to Modern Brake and Ameren/CILCO. Receive "Your Final Judgment" in all-new, bloodcurdling rooms with many new twists and turns along the way, culminating in a terrifying maze. (http://lincolnjaycees.com/)
Remaining dates of operation are Oct. 16 and 17, 23 and 24, and 28-31. Hours are 7-11 p.m. Fridays and Saturdays, 7-10 p.m. Oct. 28-29, and 7 p.m.-midnight on Halloween. There will be two special matinees for kids: Oct. 24 and 31, 2-4 p.m. Lights will be on and monsters will be friendly.
---
Got a good piece of news, information or something that we can all brag about? If you do, e-mail Mike and let us tell everyone about it. Plus you can win cash. Every submission, whether we use it or not, will get your name in the Close Up grab bag. At the end of the month we will draw a name and someone will get $25 just for dropping us an e-mail. If you wish, we will be happy to donate your winnings to the organization of your choice.
You can contact Mike at mikefak@lincolndailynews.com.
[By MIKE FAK]