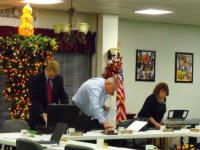 City attorney Bill Bates, Mayor Keith Snyder and City Clerk Denise Martinek get set up in their new home for the evening.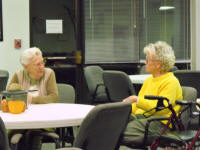 Dottie Martinek, left, and Bettie Spitze visit before the meeting. Both are residents of Friendship Manor, looking forward to seeing the council in action.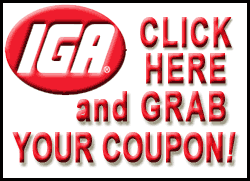 Mike O'Malley, another resident of Friendship Manor, had never been to a city council meeting. He said he was looking forward to seeing what goes on.
Ward 3 Alderwoman Joni Tibbs visits with Dru Hauter of the Lincoln Futbol Club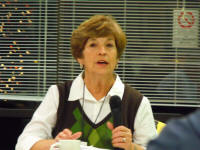 At the beginning of the meeting Tibbs shared information about her ward with the audience.
The other alderman for Ward 3, David Armbrust, also spoke, sharing memories of growing up on Clinton Street and playing with friends at the Odd Fellows orphanage.