Little Lambs Day Care, Relay for Life, Mount Pulaski Halloween hours, Lincoln FFA, Main Street Lincoln and the Lincoln Public Library all in Close Up
By Mike Fak
[October 16, 2009] Little Lambs Day Care will have their 5th annual Chili Cook-Off today (Friday, Oct. 16) from 5:30-7:30 at 1500 N. McLean. Guests will vote for their favorite chili, and a panel of judges from the community will decide the winners. In addition, there will be fun events for the children, including face painting, pumpkin painting and a hayrack ride (weather permitting). All-you-can-eat chili and drink will be $5 for adults and $2 for children. A wide variety of desserts will be available for purchase with your meal, and homemade desserts will be raffled off throughout the evening. Children must be accompanied by an adult, and all donations will benefit Little Lambs Day Care.
---

If you are looking to help in the fight against cancer, Relay for Life is looking for you. The first committee meeting for the 2010 Logan County Relay for Life will be at 5:30 p.m. on Monday, Oct. 19, at the Lincoln Christian Church.
---

The official city of Mount Pulaski Halloween trick-or-treat hours are Saturday, Oct. 31, from 4 to 7 p.m.
---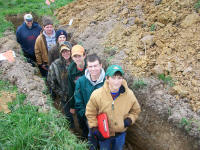 The Section 14 FFA contest in land use was held Tuesday, Oct. 13, at Hartsbug-Emden. Lincoln participated in the contest, with Clay Irwin placing second overall. Lincoln FFA members pictured in one of the observation pits at the contest are Austin Goodwin, Todd Irwin, Sam Buse, Stephen Combs, Todd Irwin, Cameron Harnacke and Seth Unger. Picture by Linda Woods, newest ag teacher at LCHS.
(Click on picture for larger image.)
---

Main Street Lincoln is having a fundraiser this Sunday, Oct. 18, at Hallie's Lunch Box, 111 S. Kickapoo. Proceeds from the sale of food during those hours will go to Main Street Lincoln to help purchase Christmas lights for the square. Main Street Lincoln board members will be on hand to do the cooking and to serve you, so stop on the square this Sunday, get a great meal and help light up the square for Christmas.
---

There is plenty to do at the Lincoln Public Library this coming week. On Monday, Oct. 19, there will be a free craft class for children 8-12 years old. The time is 3:30-4:30 p.m. A new project is presented each week. Preregistration is required. Call 217-732-5732.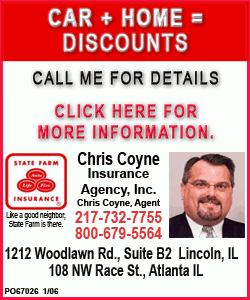 On Tuesday, Oct. 20, Ready Readers will be at the library for children 5-7 years old. This is a story time for children who are in kindergarten to second grade. It includes stories, dramatic movement, craft and music. The time on this event is 3:30-4:15 p.m. Preregistration is required. Call 217-732-5732.
On Wednesday, Oct. 21, the library will host Little Listener Lapsit for children ages 6-12 months. This is a story time for parent and child. It includes stories, finger plays, nursery rhymes and music. It will be at the Lincoln Public Library Annex and starts at 10 a.m.
Also, on Wednesday, Oct. 21, Beginning Book Buddies for children 3-4 years old will be at the library. This is a story time for the preschool set and includes stories, puppets, music, finger plays and dramatic movement. Preregistration is required. Call 217-732-5732. It also will be at 10 a.m. at the annex.
---
Got a good piece of news, information or something that we can all brag about? If you do, e-mail Mike and let us tell everyone about it. Plus you can win cash. Every submission, whether we use it or not, will get your name in the Close Up grab bag. At the end of the month we will draw a name and someone will get $25 just for dropping us an e-mail. If you wish, we will be happy to donate your winnings to the organization of your choice.
You can contact Mike at mikefak@lincolndailynews.com.
[By MIKE FAK]