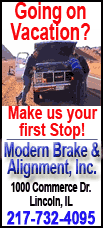 Dubbing the fundraising event for Michelle Conrady-Brown "Elkhart is Fired up," the owners intend to offer a day of fun, food and assistance to Michelle and her family. The Hudsons have owned the restaurant and bar for two years, but Dana Hudson is a lifelong resident of Elkhart. The couple decided to become involved in the continuing efforts to help Michelle and her family with the expensive costs relating to her treatment against ALS.

The hours for the bonfire-fundraiser are 2-6 p.m. at the business in downtown Elkhart. Volunteers are putting together quite an array of events to make this a fun day. Hot dogs, baked beans and chips will be the special menu. Volunteers from the Needs and Goals organization will put on a bake sale and donate all of the proceeds to ALS Worldwide for Michelle Brown. Special guest bartenders will be on hand to serve up the drinks. The Elkhart Fire Department will bring in a fire truck for all of the younger kids to see and explore.

Donations from the event will all be put toward the expenses Michelle will incur as she makes trips to Mexico. Currently Mexico is the only place doing a special type of stem cell research for ALS.

The Hudsons encourage everyone to come out, bring a smile and a prayer of encouragement to let Michelle and her family know what a community of support we can be.