Middletown United Methodist Church, Humane Society meeting, Dave Hennessy, Christian Child Care, Brad Miller, Lucky Six winners and the Quilters at Heart Quilt Guild all in Close Up
By Mike Fak
[October 20, 2009] Middletown United Methodist Church is having their annual soup supper-fundraiser on Saturday, Oct. 24, with serving beginning at 4 p.m. and ending at 7. Chili and vegetable soup, homemade desserts. All-you-can-eat. Carryout available. Adults, $5; under 10, $3; under 3, free. The Country Store will also be open.
---

A Humane Society of Logan County general membership meeting will be held Wednesday, Oct. 21, at Chad's Blind, 1230 Fifth St. There will be snacks at 6:30 p.m. HSLC is pleased to be able to offer a special presentation by expert dog behaviorists. They will be explaining canine body language and the difference between training and behavior modification. All members are encouraged to take advantage of this opportunity. The public is also invited to join HSLC for this exciting evening.
The annual HSLC general membership meeting will be Jan. 20, 2010. At this meeting three members will be elected to the board of directors. Any member who is interested in pursuing a position on the board may submit a letter of intent to the secretary of the board, Wanda Stevens, wstevens@ccaonline.com, after Dec. 1. Nominations will also be accepted from the floor.
---
After 25 years working at Neal Tire, Dave "Grandpa" Hennessy is retiring.
Dave has been in the tire business for over 38 years.
In congratulations of his retirement, an open house is being held on Friday, Oct. 30, at Neal Tire. Be sure to stop by and wish "Grandpa" Dave a happy and long retirement. Refreshments will be served. Neal Tire is located at 451 Broadway in Lincoln.
---

Christian Child Care is having an open house and Usborne Book Fair this Thursday, Oct. 22, from 4:30 to 6 p.m. Parents are encouraged to sign up to meet with teachers for that evening. The center also will serve desserts and giving tours to prospective parents to the center. During the Together for Lincoln Event many volunteers painted and weeded at the center, and they did a terrific job. All the volunteers are invited back to celebrate the great job they did for Christian Child Care!
Christian Child Care has sent in its application for quality rating stars and will have evaluators coming at the end of the year. This process will evaluate the performance of teaching staff, administration and facility. It has taken a year to prepare for this evaluation and lots of hard work.
Christian Child Care is very proud to be a United Way Agency and is encouraging everyone to make their donations to this very worthy cause. If you need information on how to make donations or about Christian Child Care and the open house, contact Coleen Moore, director, at 732-5750. Christian Child Care is at 721 Wyatt Ave. in Lincoln and is an Odd Fellows facility.
---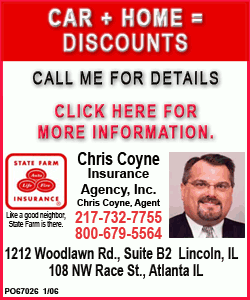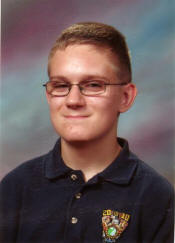 Brad Miller, Zion Lutheran School eighth-grader, has been selected as the Zion Lutheran August/September Student of the Month.
Brad has been on the A honor roll, and his ZLS activities include band, track and field, choir chimes, choir, student council, Math Bowl, Bible Bowl, geography bee, spelling bee, IMEA District Band, Lutheran Honors Band and musicals.
His church and community activities include youth group, Sunday school musicals and summer reading program. He has been a VBS helper and Lincoln Public Library volunteer.
Brad enjoys spending time with friends, riding his bike, playing on the computer and watching TV.
Brad's parents are Randy and Peggy Miller of Lincoln.
---

Carroll Catholic/Holy Family Lucky Six winners:


| | | |
| --- | --- | --- |
| Amount | Winner | Seller |
| $1,000 | Daron Whittaker | Bill Wurth |
| $500 | Linda Franz | Janet Langenbahn |
| $300 | Binh Duong | Loan Nguyen |
| $100 | Pat Kelly | Carolyn Gober |
| $100 | Todd Lohrenz | Larry Lohrenz |
| $100 | Darlene E. Wick | Lynn Hewett |
---

The Quilters at Heart Quilt Guild will hold their monthly meeting at 7 p.m. on Thursday, Oct. 22, at Trinity Episcopal Church, located at 402 Pekin St. Stacie Wachtel will show the latest fabric collections from Blank Quilting. For additional information, please contact Wachtel at 309-533-1122 or staciewachtel@yahoo.com.
---
Got a good piece of news, information or something that we can all brag about? If you do, e-mail Mike and let us tell everyone about it. Plus you can win cash. Every submission, whether we use it or not, will get your name in the Close Up grab bag. At the end of the month we will draw a name and someone will get $25 just for dropping us an e-mail. If you wish, we will be happy to donate your winnings to the organization of your choice.
You can contact Mike at mikefak@lincolndailynews.com.
[By MIKE FAK]