Oasis notes

For the week of Oct. 26

Send a link to a friend

[October 24, 2009] Traveling bingo in Atlanta -- The Oasis seniors will travel to the Atlanta Community House on Monday, Oct. 26, for bingo games beginning at 1 p.m.

Bunco

Bunco games at the senior center will be on Monday, Oct. 26, beginning at 1 p.m. Refreshments will be available, sponsored by Marilyn Armbrust of Regions Bank.

Tuesday's lunch

Because of a private lunch, there will be no regular Tuesday lunch on Oct. 27.

The Oasis, Logan County's senior citizen center, 501 Pulaski St. in Lincoln, is open weekdays, except holidays, from 9 a.m. to 4 p.m. The center also is open on Friday and Sunday nights for table games. Dominic Dalpoas is the executive director.

Activities are open to all Logan County senior citizens, regardless of membership. Friends of The Oasis members receive a bimonthly newsletter by mail and reduced rates for classes and trips. For more information, call 732-6132 or 732-5844.
Breakfast bingo
Breakfast bingo will be on Thursday, Oct. 29. Doors open at 8:30 a.m., breakfast will be served at 9 a.m., and bingo will follow, sponsored by Vonderlieth Living Center. Suggested donation is $4.
Card games
The Oasis plays all sorts of card games for your entertainment. The pinochle group meets Tuesday-Friday at noon and on Friday and Sunday nights at 6. Check with us for days and times of other groups.
Card winners
Recent daytime pinochle winners were Larry Van Bibber and Kathy Roos. Weekend pinochle winners were Linda Hughes and Larry Van Bibber. The five-in-one winners were Judy Morrow and Bernie DePuy.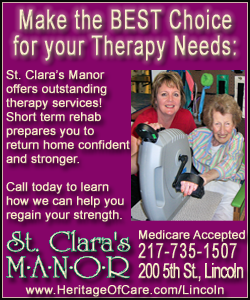 Fall card party
At the fall card party, pinochle winners were Helen Opperman, first; Kathy Roos, second; and Eileen Kohl, third. Bridge winners were Bernie DePuy, first; Ann Hendricks, second; and Ruth Hoppin, third. Door prize winners were Marilyn Schneider, Jerry Miller, Betty Adair, Ida Horton, Sis Dehner, Helen Opperman, Ruby Harmsen and Ruth Ackerman.
[Text from Oasis news release]