Library notes

Send a link to a friend

[September 01, 2009] Your library: more than just books

The Lincoln Public Library District offers more to our patrons than books and movies. Available for public use while in the library are a button-making machine, copy machine (fee for copies), three meeting rooms and Wi-Fi in both buildings. Thinking you'll never get to watch those old movies or slides again? With your library card you can check out a Super 8 or 8 mm movie projector, or a slide projector, as well as a cassette tape player or an overhead projector. Your library is current on technology as well as understanding of the past.

The Lincoln Public Library is located at 725 Pekin St., with adult nonfiction and reference materials in the historic Carnegie Building. In the Annex Building directly behind are adult fiction and the Youth Services Department. All library events are free and open to the public. On the Web, visit www.lincolnpubliclibrary.org.

Hours are Mondays, Wednesdays and Fridays, 9 a.m.-5 p.m.; Tuesdays and Thursdays, 9 a.m.-7 p.m.; and Saturdays, 9 a.m.-1 p.m. Phone 217-732-8878 for adult services and 217-732-5732 for youth services.
NoveList
Now on the library's Web site are links to NoveList, an online database of fiction titles for adults, and NoveList K-8, specifically for elementary and middle school children. Logging in with your Lincoln Public Library District card number will let you search for books by author, title, series or plot description. Click on "Author Read-alikes" to help you find authors who write in a similar genre that you enjoy reading. Also investigate "Award Winners," "Book Discussion Guides" or "Feature Articles" for a wealth of information. You can even establish a file to keep lists of titles for future reading, as you are sure to find more titles than you can read at one time.
Upcoming events
Tutors will return to the library on Sept. 8. This "attend as needed" service is offered Monday through Thursday from 3:15 to 4:45 p.m. in the Annex. Tutors are students from Lincoln Christian College who provide this service to ages 8 and up free of charge.
Fall story times will begin the week of Sept. 21. The library offers Lapsit Story Time for little ones ages 6 months through 2 years old and Beginning Book Buddies for 3- and 4-year-olds on Wednesdays at 10 a.m. Ready Readers for ages 5-7 will meet on Tuesdays at 3:30 p.m. Registration for story times begins Sept. 14.
Fall craft classes, open to 8- to 12-year-olds, are offered on Mondays at 3:30, beginning Sept. 21. Sign-up for these classes is no more than two weeks in advance of each week you would like to attend. A list of the planned crafts is available in the Youth Services Department.
YAC meeting
The first Youth Advisory Council meeting of the school year will be Sept. 30 at 3:30 p.m. in the Annex. All teens are welcome to attend. This group meets several times each school year to plan teen events at the library. Have an idea? Bring your idea and a teen friend to this meeting and become an organizer!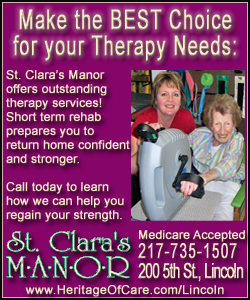 Miss Lou's blog
Louella Moreland, youth services librarian, has a blog that can be found by linking through www.lincolnpubliclibrary.org. She will discuss new books, introduce programs, take polls and ask for your ideas. Look for pictures of the library's summer activities.
Holiday closing
The Lincoln Public Library District will be closed Sept. 7, Labor Day.
Live Homework Help
Log on to www.lincolnpubliclibrary.org to get help from a live tutor. The one-on-one help is available to kindergarten through adult learners in math, science, English, social studies and writing. Use your Lincoln Public Library card number to log in.
[Text from file received from Marlene Perry, Lincoln Public Library]