Grab Your Fork winners, Zonta, Cindy Wendlandt benefit, Gail's Pumpkin Patch, art fair winners and Zion Lutheran Family Fun Fest make Close Up
By Mike Fak
[September 01, 2009] The August Grab Your Fork drawing winners are Nitsie Gleason, Lincoln, with her Great and Simple Meat Marinade, who chose the Chad's Blind gift certificate, and Mary Steffen, Lincoln, with her Hot Chicken Salad recipe, who won a First Impression gift bag (Logan County residents only). All it takes to win is to submit those favorite recipes. So what are you waiting for? Submit those recipes today.
---

Zonta Club will meet on Tuesday, Sept. 8, at 6:15 p.m. at Rusty's. Regrets to Judy Awe, 732-4758, by 7:30 a.m. on Monday, Sept. 7. Committees will meet.
---

The Cindy Wendlandt Cancer Benefit is Saturday, Sept. 5, noon-10 p.m. at Chad's Blind, 1230 Fifth St., Lincoln. Starting at noon there will be an all-you-can-eat buffet at $8 per plate per adult, $2 per plate per child under 16 years old. The meal consists of pork chops, chicken breast, rib-eye steak sandwiches and Frank's famous Wisconsin-roasted sweet corn, assorted salads, etc., prepared and furnished by the Warren Wendlandt family and friends.
4-5 p.m. -- Live auction by George Leverton. Guns, grillers' raffle, D.U. Print raffles, pig raffle (processed pig) -- two raffles: one live, one walk-around, generator raffle, slot machine raffle, field layout goose blind with gun, four-person getaway weekend at Sunnyslope Hunting Lodge in Fulton County, and more.
6-9 p.m. -- Live music by one of our famous local bands
---

Gail's Pumpkin Patch at rural Beason will open for its fourth season on Sept. 12.
The patch will be open Sunday through Friday from 1 until 5:30 p.m. Saturday hours are from 10 a.m. until 5:30 p.m. The final day of the season is Oct. 31.
---

The Lincoln Art Fair winners this year are:

Best in Show: Nick Berchtold, wooden mosaics

First runner-up: Anne Sherwin and Leslie Trebotich, paper art

Second runner-up: Alice Jaeger-Ashland, printmaker

Third runner-up: Todd Shaak, photography

Fourth runner-up: Douglas Fulks, pen and ink

Best new artist: Hua Nian, pen, ink and paper tearings
---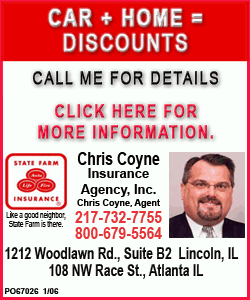 Zion Lutheran plans Family Fun Fest for Saturday. The community is invited to an afternoon of food and games at the Family Fun Fest sponsored by Zion Lutheran School in Lincoln on Saturday. The pig roast and corn boil, with homemade ice cream, will run from noon to 6 p.m. Inflatable rides, face painting, bingo, a dunk tank and a cakewalk will be part of the festivities. Homemade pies and cakes will be auctioned at 4:30 p.m. A variety of mums will be on sale also. Food tickets are $6.50 for adults and $3.50 for children. Carryouts will be available.
The fun fest will be at the school, 1600 Woodlawn Road in Lincoln, across from the Walmart Supercenter.
---
Got a good piece of news, information or something that we can all brag about? If you do, e-mail Mike and let us tell everyone about it. Plus you can win cash. Every submission, whether we use it or not, will get your name in the "Close Up" grab bag. At the end of the month we will draw a name and someone will get $25 just for dropping us an e-mail. If you wish, we will be happy to donate your winnings to the organization of your choice.
You can contact Mike at mikefak@lincolndailynews.com.
[By MIKE FAK]