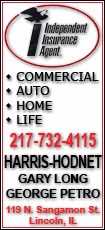 The technology was there, said Logan County EMA director Dan Fulscher, and it saw the storm, but there was little that anyone could do as the tornado spun and churned and destroyed along a more than 20-mile-long path.

When it finally lifted, 35 farmsteads had been damaged, many of them destroyed.

Within minutes after the damaging winds ascended, "a sea of people," according to Fulscher, descended on the stricken area.

Fulscher is comfortable stating that as many as 1,200 volunteers in all were involved in the cleanup and continuing to help the affected families in the upcoming days.

"EMA will take very little credit" for the help offered so quickly to families, Fulscher said. "I have been in emergency services 30 years, in management since 1993. I have seen a lot, but nothing like the mass response of volunteers I saw that Thursday," he said. "And they came on their own, without any request from EMA. And they were so organized it was unbelievable."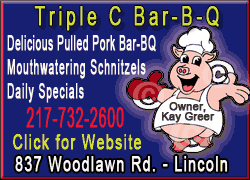 Fulscher said that once the EMA headquarters was staffed, he left for the field. His sister's home was in the middle of the damage path, and Cindy and Ed Mayfield's house was demolished. Delmar Stewart from Mount Pulaski and Randy Gedardt in Beason drove toward Fulscher's location at the farm. When the three met, they knew this had been a major tornado and already understood damage would run into the millions.
The three also saw that already cars, trucks and vehicles towing trailers were pulling up to homes to help clear, save and help victims.
"It took my brother-in-law two hours to get home from Missouri. When he arrived, people had already dug out his car and truck from the debris and were working on getting the combine out," Fulscher said. "People were loading up the furniture and valuables from the home since another report of a heavy storm was in the forecast. It was just an amazing thing to see."
In all cases, cars and trucks could be seen parked along roads leading up to farmsteads, as if there was a picnic on the property. But these folks, often strangers, many times neighbors and friends to the victims, weren't there to picnic. They were there to do whatever they could to help.
Fulscher said that the EMA center constantly fielded calls from people asking what they could do. They were told to pick a friend whose farmstead had been damaged or, if they didn't know anyone, to pick a site that looked like it needed some help. And they all did, in droves.
The EMA director said that in the last 15 years, Logan County has had 41 local disaster declarations -- far above normal. "In Logan County, many people have been affected by some disaster: ice, floods, storms," he said. "I think because so many have had something happen to them and were so appreciative of the help they received, that when they saw someone else in trouble they just went."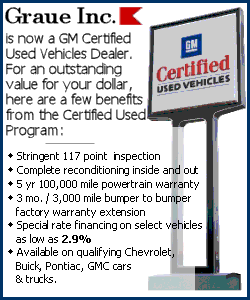 Fulscher wanted to point out how the sheriff's department put on extra shifts, and the sheriff's auxiliary became involved and worked through the nights, helping patrol the areas through those first few nights to make sure everything was secure.
The Red Cross and Salvation Army were in the field and rendering valued assistance to victims immediately, from the start, and in the days that followed also.
There was celebration in the aftermath even in the little things. In the first hours, word spread with enthusiasm when trucks loaded with bottled water pulled up where volunteers labored. The next day porta-potties were arriving on sites.
There were volunteers helping the volunteers as well. Mark May and Charlie Lee from the Lincoln IGA hooked up their mobile grills and went into the fields to cook up food for the multitude of volunteers. Fulscher said he walked up to May to give him his card and said, "Here is where you can send a bill." Fulscher said May's reply was, "I don't believe that is the point of why we are here."
To date Fulscher says that with so much being taken care of by so many, the center has not received a single bill asking for reimbursement. "I wish I could tell you the names of all the people, all the churches, all the community organizations that helped out those first days, but I can't," he said.
Suffice it to say, those thousand-plus strong who did so much without any fanfare or looking for praise can all rest in the self-satisfaction that they are the best in this community filled with the best.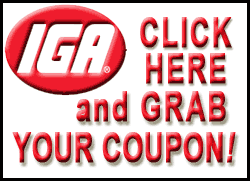 We are proud to place the accolade of Personalities of the Week on every one of them. And may the Good Lord hold each of you in the palm of his hand. Much like you did for our neighbors who needed your special hand following Aug. 19.
[By MIKE FAK]
Those who suffered losses from the tornado have many continuing personal needs. The community is being asked to help meet important needs and transitional costs for families by donating financially, with goods or by volunteering time. To learn more about how you can help, contact Salvation Army disaster relief caseworker Rebecca Van Nydeggen at 217-732-7890. The office is located at 307 N. Kickapoo St. in Lincoln.