Humane Society, Lincoln Community High School, Mount Pulaski Water Dept., glass recycling, Jefferson St. Christian Church and State Bank bocce ball tournament winners all in Close Up
By Mike Fak
[September 04, 2009] Thanksgiving is only two months away and the Humane Society of Logan County wants to help you make it a special holiday. We are selling chances for two Kroger gift cards, one for $250 and the other for $500. Chances are 10 for $5. Chances will be available at our Kroger bake sale on Sept. 12, at the dog wash on Sept. 26 and from any fundraising committee member. If you want tickets or would like to sell them, please call Marsha Brown at 217-735-2108. Drawing will be Nov. 14.
---

Lincoln Community High School is hosting a presentation Wednesday, Sept. 9, on bullying and violence abatement, designed to motivate students and community members to start a chain reaction of kindness. Rachel Scott was the first person killed at Columbine High School on April 20, 1999. Rachel's acts of kindness and compassion, coupled with the contents of her diaries, have become the foundation for this program. We hope you can attend this community event in the LCHS auditorium at 7 p.m. If you would like more information about Rachel's Challenge, please visit www.rachelschallenge.org. Contact Liz Schneider at LCHS for more information on the Sept. 9 program -– 217-732-4131, ext. 266.
---

MOUNT PULASKI -- The Mount Pulaski Water Department will flush water mains on Sept. 15 and 16 between 10 p.m. and 4 a.m. The water main flushing will cause the water to become cloudy, but it is safe to drink. The cloudiness will last approximately a day after each flushing.
Laundry should be scheduled accordingly.
For information, residents can call City Hall at 792-3222.
---

The Logan County Joint Solid Waste Agency, in collaboration with the Lincoln Junior Woman's Club, Saint-Gobain Containers and Wal-Mart, will have its monthly glass collection from 9 a.m. to noon Sept. 12 in the Lincoln Walmart Supercenter parking lot. The collection will be canceled in event of rain.
---

Starting on Sept. 13, Jefferson Street Christian Church will offer Dave Ramsey's Financial Peace University classes to the general public at four different times. The cost of a Financial Peace University family membership is $100, and once a family purchases a kit, they are eligible to take any Financial Peace University course in the future for free. Kits are available through the church. The class times are as follows: On Sundays, beginning Sept. 13, there are three classes: at 9 a.m., 10:45 a.m. and 5:30 p.m. Also, a class will be offered on Tuesdays at 6:30 p.m., beginning on Sept. 15. All classes are in Room 205, which is accessible through the church's Worship Center entrance. To sign up for a class, please call the church at 217-732-9294, ext. 106, or e-mail Dustin at dustinf@jeffstreet.org. Classes are limited to the first 50 people, and all of the classes are nearing capacity.
---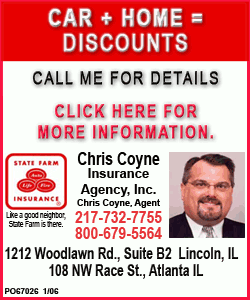 On Saturday, Aug. 29, the 2009 art and balloon fest bocce ball tournament was held at the airport. Eighteen teams showed up to compete (36 people). State Bank of Lincoln sponsored the tournament and donated $250 to the prize money. The winners of the tournament were:
Primary bracket winners:
First place -- Eric Mickels and Alan Biagini, both of Washington

Second place -- Don Fassero of Kincaid and Will Wake of Rochester

Third place -- Rick Gerardi of Clinton, Ill., and Richard Reed of Clinton, Ind.

Fourth place -- Steve Aughenbaugh of Lincoln and Alan Lape of Covington, Ind.
Consolation bracket winners:
First place -- Tony Egleton of Normal and Rob Morris of Athens

Second place -- Judy Fassero of Kincaid and Donna Wake of Rochester

Shared third place -- Mark Hines of Downs and Duncan Lape of Covington, Ind.

Shared third place -- Theresa Mickels and Nicole Mickels, both of Washington
Under 13 team winners:
Our youngest competitor, Nicole Mickels, was 8 years old and played wonderfully. I promised her I would try to get her name in Lincoln Daily News. We all had a great time, and the weather was perfect for bocce ball.
---
Got a good piece of news, information or something that we can all brag about? If you do, e-mail Mike and let us tell everyone about it. Plus you can win cash. Every submission, whether we use it or not, will get your name in the "Close Up" grab bag. At the end of the month we will draw a name and someone will get $25 just for dropping us an e-mail. If you wish, we will be happy to donate your winnings to the organization of your choice.
You can contact Mike at mikefak@lincolndailynews.com.
[By MIKE FAK]