Rachel's Challenge at LCHS, the Mount Pulaski Fall Festival, the Atlanta Fall Festival, caregiver program at Vonderlieth, blood drive, a cruise-in and St. John's Hartsburg make Close Up
By Mike Fak
[September 08, 2009] Rachel's Challenge comes to LCHS. Lincoln Community High School in Lincoln would like to invite the public to attend this wonderful community event on Wednesday, Sept. 9. It will be in the high school auditorium, starting at 7 p.m. Rachel's Challenge is a presentation on a bullying and violence abatement program designed to motivate students to start a chain reaction of kindness.
Rachel Scott was the first person killed at Columbine High School on April 20, 1999. Her acts of kindness and compassion, coupled with the contents of her diaries, have become the foundation for this program. Students of LCHS, LJHS, Illini Central and Carroll Catholic will be viewing the presentation during an all-school assembly, and the public is encouraged to attend the evening presentation.

If you would like more information about Rachel's Challenge, visit www.rachelschallenge.org for more details.
---

Mount Pulaski Fall Festival kicks off Thursday and everyone is invited. Sponsored by Mount Pulaski area businesses, some of this year's activities are a three-on-three basketball tournament, 5K run Saturday morning, car show, tractor show, petting zoo, kiddie tractor pull, pie cook-off and egg roulette. There is a carnival all three days. There will be a game show on the main stage for kids and adults on Friday and Saturday. A parade is at 1 p.m. Saturday and a comedian on the main stage Saturday night. Other features are Brooks Dance Studio performances, Cutest Lil Farmer, Little Miss Mount Pulaski, community band concert, kids' lantern parade and Jaycees' beer tent with live entertainment: The Veggies, Bluesmattic, Upfront and Poprocks. And many more activities.
The days and hours are Thursday and Friday 4 p.m.-midnight, Saturday 8 a.m.-1 p.m.
For details, see http://www.mtpulaskiil.com/ and schedule.
---

The Atlanta Fall Festival is also this weekend, so make plans to travel the county and enjoy everything the busiest community in central Illinois has to offer. For your enjoyment, the festival will include carnival rides, games, a petting zoo, a car show, art and craft vendors, and great food, as well as a pie and cake baking contest and auction. For additional information, call 217-648-2351.
---

Vonderlieth Living Center

, 1120 N. Topper Drive, Mount Pulaski, is having a support program, being offered on Thursday, Sept. 10, from 5:30 to 8 p.m. Kay Menenghetti from St. John's Hospital will be the speaker.
The center's goal is to reach out to those valuable caregivers who invest so much of themselves into loved ones who have various forms of disability or weakness. Even when a person is admitted to the nursing home, the worries of a caregiver do not end. We hope to reach out to anyone providing care, whether their loved one is at home or in a skilled nursing facility. Kay also has access to many programs that are available to caregivers and is able to help them make connections they may not have been aware of previously.
---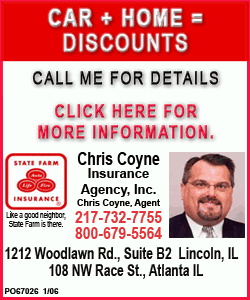 There will be a CICBC blood drive Friday, Sept. 11, at Lincoln Community High School, 1000 Primm Road, from 7:30 a.m. to 2:30 p.m. The public is invited to donate blood. For an appointment, call 1-866-GIVE-BLD (1-866-448-3253), ext. 56, or visit www.cicbc.org.
---

A cruise-in by the Railsplitter Antique Auto Club will be Friday night at Culver's, 2530 Woodlawn Road, from 5 to 9. For more information, call 732-3519 or 732-3245.
---

Rally Day

is scheduled at St. John's Lutheran Church, Hartsburg, for Sunday, Sept. 13. Sunday school begins at 9 a.m., with the annual balloon launch scheduled for 10 a.m. Following the worship service a light lunch will be served: sub sandwiches, chips, cookies and a drink. Donations will be accepted and will benefit the church's redecorating fund. The public is invited to attend the festivities.
---
Got a good piece of news, information or something that we can all brag about? If you do, e-mail Mike and let us tell everyone about it. Plus you can win cash. Every submission, whether we use it or not, will get your name in the "Close Up" grab bag. At the end of the month we will draw a name and someone will get $25 just for dropping us an e-mail. If you wish, we will be happy to donate your winnings to the organization of your choice.
You can contact Mike at mikefak@lincolndailynews.com.
[By MIKE FAK]