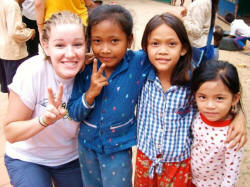 Lincoln Christian University students visit Cambodia, learn firsthand about human trafficking
<< LCU student Amy Carlock with Cambodian children

Send a link to a friend
[September 05, 2009] In July, five Lincoln Christian University students traveled to Cambodia to work with poverty-stricken children, some of whom had been rescued from illegal brothels. After spending much of the 2008-2009 school year studying the global problem of human trafficking, the students witnessed firsthand the circumstances that lead to human trafficking and the recovery process involved when a child is freed from her captors.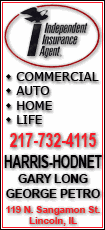 The students spent their first week in Phnom Penh, Cambodia's capital and the focus of a 2005 MSNBC documentary "Children for sale." Visiting the home of a Christian minister in the 95 percent Buddhist population, the LCU students joined students from other U.S. Christian colleges in teaching VBS, playing with children, and observing their lives, families and homes.

More than 70 children came to play every day at the

"Jesus House," as the minister's home is known around the neighborhood, some walking or biking for 20 minutes to get there from their homes. The children were all thin and undernourished, some with stained, torn or insufficient clothing. Visiting some neighboring homes, students met families with no indoor plumbing and no safe drinking water.

A young girl lay ill in one of the homes, and her family reported that she would likely die, as she'd been sick for two months. Another child lived with her mother, who was suffering from advanced stage HIV infection and could no longer work to support her two children. A third sibling had died from HIV years previously, as had the girl's father. Through an interpreter, the girl's mother asked one of the LCU students to adopt her daughter and take her home to the U.S.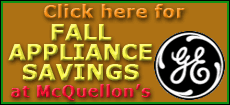 Adoptions into the U.S. from Cambodia have been illegal since 2001, with the U.S. citing instances of baby trafficking and uncertain adoption procedures as reasons making adoptions from the Asian country unsafe. In the marketplace, begging children were a common sight. It quickly became clear that parents could be tricked or convinced to sell their children in the hopes of securing income for their family and regular meals for their children. Extreme poverty conditions, a result of the small country's bloody civil war and genocide instigated by Pol Pot, are what makes Cambodia so vulnerable to human trafficking, the world's third-largest illegal industry, second only to arms and narcotics.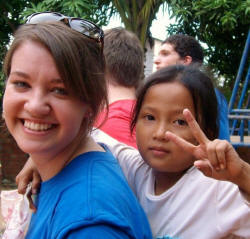 (LCU student Devon Wilson has made a new friend)

During their second week, the students were transported to a safe house in an undisclosed location in Asia.

Rapha House is home to more than 80 girls, most of whom have been rescued from illicit brothels by organizations like International Justice Mission. IJM employs investigators with law enforcement and military experience to look into allegations of human trafficking around the world, and cooperates with local law enforcement to raid traffickers and shut down their illegal businesses

Lawyers work with IJM to prosecute cases against the traffickers. Children rescued during raids are transported to safe houses like Rapha House, where they receive medical care and counseling. Rapha House also looks into the girls' families to determine if there are siblings at risk of trafficking and will remove them from the home if necessary.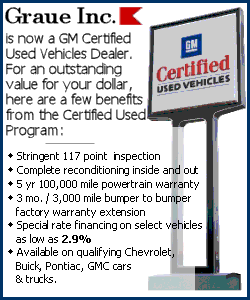 The girls at Rapha House were noticeably better-nourished than the children in Phnom Penh. They laughed and played, obviously feeling safe in their new home. While in residence, the girls go to school every day and are taught English, as well as receiving vocational training in trades like sewing and cosmetology. One treatment goal is to prepare girls to provide for themselves, making them less vulnerable to traffickers in the future.
Rapha House even works with the girls' families, allowing home visits when the family is deemed not to be a danger to the child. In a groundbreaking project, some families are trained to raise mushrooms to sell in the marketplace, and upon successful completion of the training program, Rapha House provides 1,500 mushroom spores to begin the family's business. The overall result is an excellent program aimed at healing the child, healing the family and preventing future trafficking activity.
The Lincoln Christian University students returned to the States with a keen awareness of the differences between their own lives and those of children in Cambodia. Amy Carlock, a psychology major at Lincoln Christian University, gained a desire to investigate the status of the U.S.-Cambodia adoption ban and to look into other options for rescuing children in these circumstances. Matthew Davidson, from Johnston Bible College, plans to return to Cambodia for three months next summer to teach English to children like those he met in Phnom Penh.
Several students returned with a new perspective on their own discretionary spending and a desire to forgo future pizza, soda and specialty coffees in favor of sending money to the organizations with whom they worked, having seen firsthand how far the American dollar can go in Cambodia.
None of the students returned to the States unchanged, and they will never forget the children they met on their trip.
[By CANDRA LANDERS]