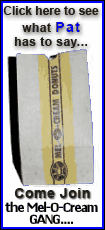 Walking on the hard artificial turf of the Carrier Dome during last year's win over the Orange made Paterno's hip injury worse -- an ailment that eventually led to surgery.
And now, this week, the rebuilding Orange (0-1) travel to Happy Valley with starting quarterback Greg Paulus, who once played point guard for one of the most storied basketball programs in the nation at Duke.
The Paulus hoopla has almost made Penn State (1-0) a footnote heading into Saturday's game at Beaver Stadium. The Nittany Lions jumped two spots to No. 7 in the AP Top 25 poll released Tuesday.
"I can't tell you why that program deteriorated. I think we all remember that Syracuse was not only one of the great programs in the East, but in the country," the 82-year-old Paterno said Tuesday. "I think they've got the right combination now."
Paulus and first-year Syracuse coach Doug Marrone are part of that Orange mix looking to revive a program that has stumbled to the Big East basement.
Syracuse has played Penn State 69 times, more than any other Orange opponent. Penn State is 41-23-5 against Syracuse since the first meeting in 1922.
Paterno's favorite moment? A game in 1954 or 1955, he recalled, when Nittany Lions running back Lenny Moore dueled with Syracuse great Jim Brown.
Then there was a time when another standout Orange running back, Floyd Little, burned Penn State on special teams.
"I still remember Floyd Little running by me three times for three punt returns," said Paterno before smiling and mimicking a wave. "He waved to me."
But the Nittany Lions have been the ones smiling since Paterno took over as head coach in 1966, going 22-4 against the Orange since then.
It was in Paterno's first year as coach that his wife, Sue, and a friend secretly splashed water-soluble orange paint on the Nittany Lion statue the week of the Syracuse game. Sue Paterno thought she would get into trouble until Syracuse fans later that week doused the shrine with oil-based paint, which was tougher to remove.
Twelve years later, the ear of the lion statue was broken off "in a raid by Syracuse students" the week of the game, according to Penn State's media notes.