United Way, hospice volunteers, Lincoln Park District, Don Wheal, changes at LDN, glass recycling and Harvest of Talents all in Close Up
By Mike Fak
[September 11, 2009] The United Way of Logan County will have their kickoff breakfast at 7:30 a.m. on Monday, Sept. 14, at the Knights of Columbus Hall. The breakfast is for UW board members, representatives from their funded agencies and other volunteers. The winning ticket for the $500 in IGA groceries will also be drawn. Anyone wanting to volunteer to help with the campaign may call Lois at 735-4499.
---

Hospice volunteers needed
Memorial Home Services Hospice will offer a six-week training program for those interested in serving as hospice volunteers. Volunteers are needed to work with patients and families in 14 counties throughout central Illinois. The training will be on Mondays, beginning Sept. 21 and ending Oct. 26, at 720 N. Bond St. in Springfield. The training is free.
Each volunteer can bring their unique talents and abilities to their work with patients by providing companionship, running errands or chores, providing transportation, reading and writing letters, and offering bereavement support.
You must register by Sept. 11 and complete an interview before the course begins by calling SueEllen Billington, hospice director, at 217-788-9337 or 800-582-8667.
---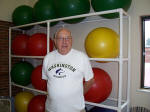 The Lincoln Park District announces that Don Wheal is the winner of their 09-09-09 at 9:09 a.m. contest. Don swiped his membership card at exactly 9:09 a.m. and won a 90-day extension to his membership. Congratulations, Don!
---

We have made several changes at LDN and want to make sure you know about all of them. We now have a second Web site address for those of you who have trouble with a keyboard: www.theldn.com is now up and running. That doesn't mean our old www.lincolndailynews.com doesn't still work, and if you have made us your home page, you don't have to type anything.
Another change that many of you have told us you like is that we have changed our front page to include the previous day's Top Stories, to make it easier for readers to catch up when a busy life keeps you from reading us every day. Our previous day's complete local postings will remain at the bottom of our very long front page, and we will continue to archive every edition free of charge. But we feel this will help you quickly stay abreast of all the local news that is important to you.
You also will have noticed we have greatly increased our picture albums in the past month or so.
From 252 pictures of the Logan County Fair, to 68 of storm damage after the Aug. 19 tornado, to an unprecedented 112 pictures of the 2009 Lincoln Art & Balloon Festival, we have made a commitment to bring you more pictures than any other media source in central Illinois.And we have an on-staff aerial photographer to give you those pictures that no one else in central Illinois can do.
Now when you click on the pictures for larger images, you will get images larger than in the past by a full 20 percent.
And as always we are happy to help you celebrate your milestones, anniversaries, weddings and births and any other announcement you might have with the rest of the community, and we won't charge you a dime to do so. It is just our way of saying congratulations and thanks for reading.
---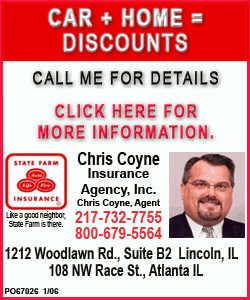 Glass recycling Saturday, Sept. 12. Sponsored by the Logan County Joint Solid Waste Agency, Lincoln Junior Woman's Club, Saint-Gobain Containers and Lincoln Walmart, the collection will be at the Lincoln Walmart Supercenter parking lot, 9 a.m.-noon.
Only container glass (must have contained either a food or beverage) will be accepted. Clear glass, amber, green and blue will be accepted. Unacceptable items include ceramics, dishware, light bulbs, fluorescent lights, window glass and mirrors. Glass will be accepted only on designated collection dates. The Logan County Joint Solid Waste Agency does not accept glass at any of its recycling sites. For safety reasons, no broken glass will be accepted.
Glass preparation: Rinse containers. Remove all plastic or metal caps and rings from the container. Labels may be left on containers. The Logan County Joint Solid Waste Agency reserves the right to refuse any glass that does not meet preparation guidelines.
The collection will be canceled in case of inclement weather.
---

The Harvest of Talents for World Hunger invites the public to attend this Sunday's Musical Offering for World Hunger. Participating are the Worship Choir, Linda Storm, Kay Dobson, Jennifer Ramsey, bell and chime choirs from St. John United Church of Christ, Kristee Smith, Gail King, Jim Allison, Paula Landess, Kathy Jo Butts, Brandon Davis, Allison Campbell and Tim Searby. A freewill offering will be taken and all proceeds given to Harvest of Talents for World Hunger. The presentation will be in the Lincoln Christian Church sanctuary, 204 N. McLean, and it starts at 2:30 p.m.
---
Got a good piece of news, information or something that we can all brag about? If you do e-mail Mike and let us tell everyone about it. Plus you can win cash. Every submission, whether we use it or not, will get your name in the "Close Up" grab bag. At the end of the month we will draw a name and someone will get $25 just for dropping us an e-mail. If you wish, we will be happy to donate your winnings to the organization of your choice.
You can contact Mike at mikefak@lincolndailynews.com.
[By MIKE FAK]