Park district notes
From Roy Logan, program coordinator

Send a link to a friend
[September 12, 2009] Just a reminder: Fall volleyball team sign-ups are going on now. We'll play on Tuesday evenings, and the prices are the same as last year. This coed recreational league is not only a good workout, but a fun way to spend time with friends. Get a team together and join in the camaraderie.
Mike Fak, local author and reporter extraordinaire, offers his talents to fellow aspiring authors. This four-week writing class begins Tuesday, Sept 22, 7-8:30 p.m. The focus will be on learning the methods for writing short stories and memoirs. Learn tips on writing for pay or for personal enjoyment. There will be small assignments each week, but it must be stressed that this will be a fun course, all the while helping you to become a better writer. Prices are very reasonable. A senior citizen discount will be offered also for those 60-plus. You may register by phone at 732-8770 or at the park district, 1400 Primm Road.

Calligraphy -- elegant handwriting or the art of producing such writing. You can learn that art right here at the park district. We welcome Harry Tibbs as our instructor. Harry is a retired graphic artist and accomplished calligrapher. This one-hour class will begin Tuesday, Oct. 20, at 7 p.m. for four weeks. You'll finish just in time to be able to produce your own beautifully scripted Christmas envelopes. This is an art that may be used many times throughout the year. Preregistration is strongly recommended so that ample supplies will be available. An introductory calligraphy pen and paper will be provided.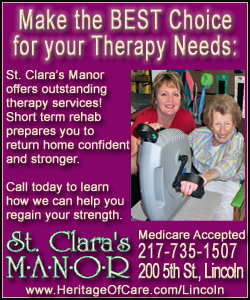 As an incentive to get you fit and active, we are offering the following special promotion. If you join the Sports Center anytime before Sept. 30, you can earn extra membership time for free. If you join for three months, we'll add an extra week. If you join for one year, we'll add an extra month! Nonmembers as well as current members can take advantage of this special offer. For example, if your membership doesn't expire until Nov. 30, just renew and we'll add the extra time to the end of that.
[Text from file received from Roy Logan, Lincoln Park District]