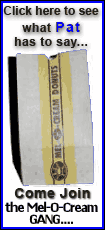 Cog Hill is plenty familiar to both of them -- Woods seems to win here all the time, Wilson practices here all the time.
It's that tee time, shortly after lunch, that might seem out of place to Wilson.
Cog Hill, the public course in the Chicago suburbs run by Frank Jemsek, opened its arms to Wilson when he moved to town from his native Wisconsin about five years ago. Even now, as a two-time PGA Tour winner, he spends more time at Cog Hill than any other course in the Chicago area. That doesn't mean he gets the course to himself.
"It's crowded, yeah," Wilson said Friday after his birdie on the final hole for a 5-under 66, giving him a share of the 36-hole lead with Woods, a four-time winner of this tournament.
"I think Cog Hill is doing pretty good," he said. "It seems like they're sending people off every eight minutes. I always used to play at 6 a.m. or about 4 in the afternoon. Those are the two times that you'll see me on the golf course. I'll try to get in front of the first group, play a quick 18. Takes only two-and-a-half hours."
So much is different about Saturday.
The prize money is $7.5 million -- put that in context with the $140 greens fee that is waived for Wilson. Still at stake is a chance to get to the Tour Championship in two weeks to compete for the $10 million bonus in the FedEx Cup.
And instead of public golfers he keeps running into, he'll shake hands with the No. 1 player in the world. Wilson has his share of fans, obviously, although he could count them in the gallery Friday.
"The multitudes are still chasing Tiger," he said.
Those fans were treated to quite a show, too. After opening with a bogey, twice having to make superb bunker shots to avoid dropping more shots and not having a good look at birdie until the seventh hole, Woods patiently waited for his opening and cashed with three straight birdies at the turn. He wound up with a 4-under 67.
Woods and Wilson were at 7-under 135, with a large cast of challengers behind them.
- Padraig Harrington, a familiar name atop the leaderboard over the last two months, was poised to join them until his tee shot on the 18th hole sailed wide ride and into a tree, sending the Irishman back to the tee. He did well to escape with bogey after making a 20-foot putt that gave him a 68. Harrington was at 6-under 136 with Rory Sabbatini (70), Bo Van Pelt (69) and Marc Leishman (69).
- Sean O'Hair, who had a share of the 54-hole lead a week ago in Boston, had a 68 and was in the group three shots behind along with Anthony Kim, winless this year and needing a good tournament to be among the top 30 to advance to the Tour Championship in Atlanta.
- Sergio Garcia, who narrowly made it to Chicago, had a 68 and was among those four shots behind.
This is the first time Woods has been atop the leaderboard since the PGA Championship, when he lost a four-shot lead after 36 holes and a two-shot lead on the final day as Y.E. Yang won at Hazeltine.