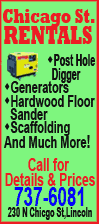 Both are born and raised Lincolnites since Arnie's family lived in nearby Burton View but he was born at his grandparents' home in Lincoln in 1921.

As Arnie and Ruth both explained, in those days families often would have gatherings -- picnics, parties and celebrations at each other's homes -- and Arnie's and Ruth's parents were good friends. That meant that the two would see each other at these functions, and Ruth, who was born in 1926, was a good friend of Arnie's sister Ruby.

The couple began dating, but then Arnie joined the U.S. Army in January of 1941. It was just before he shipped out to Europe that the two were wed on Jan. 15, 1944.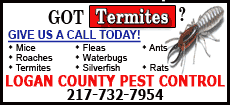 Arnie was released from active duty in July of '45 and joined the National Guard. He was activated during the Korean War and spent two years as an instructor at Camp Cook in California, attaining the rank of master sergeant. In a bit of understatement, Ruth said she was able to go to California with Arnie but not to Europe during World War II.
Both Ruth and Arnie had long careers at Barrick Transfer, Arnie working there 22 years with Ruth employed for 25. Arnie then worked for Consolidated Freightways for another 22 years before retiring from work the last day of October in 1983.
Although Ruth and Arnie have retired from their labors, they never did retire from their labor of love: the veterans groups that both of them belong to, especially the AMVETS.
C. Wayne Schrader, an active American Legion member and previous Personality of the Week, mentioned something that the modest Ruth and Arnie didn't bring up. Schrader noted that for years the couple made the trek up to Quincy to visit veterans at the AMVETS veterans hospital to give support to the old soldiers. Schrader also said that until Arnie's health prevented him from being involved with the veterans color guard, he was in charge of it and did an outstanding job for years in the capacity as commander.
"Arnie is the kind of guy that if you ask him to help, he would do it," Schrader said. "To the credit of both of them, they have been instrumental in the AMVETS being an active local veterans organization for all the years I can remember."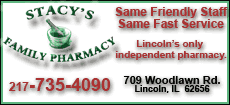 Even though Arnie has had to give up his duties with the color guard, to this day Ruth is still involved in the laying of the wreath at all veterans events. She has the same commitment to veterans as her husband and has served as the department secretary of the AMVETS Auxiliary for 32 years.
Arnie is a life member of AMVETS as well as the Disabled American Veterans group. He is a member of the Veterans of Foreign Wars, the American Legion and the Military Order of the Purple Heart.
Arnie received his Purple Heart in Belgium when a flare blew up in his face, blinding him for a week. Showing the toughness and dedication of the soldiers in those times, Arnie said that when his eyesight came back, the hospital released him and told him to go find his squad.
Arnie has held the Illinois AMVETS' highest honor, being the commander in 1964-65. He has held office in the AMVETS Department of Illinois for 13 years to add to his resume of achievements and honors in working with veterans.
Ruth laughed when she said, "Arnie tried to retire a few times, but they wouldn't let him."
Les Van Bibber, an active AMVETS member himself, holds Arnie's commitment to veterans in the highest regard. "Arnie is Mr. Logan County Veteran. I say that because Arnie has pretty much devoted his life to that cause," Van Bibber said. "I hold him in very high esteem because I see that as an exemplary position and Arnie has certainly held that himself."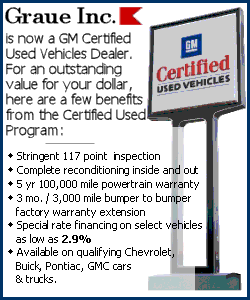 In regard to the Haaks being LDN Personalities of the Week, Van Bibber added, "Good for Arnie, and good for us."
Bob Sullivan, who is now the commander of the veterans color guard, agrees that Arnie and Ruth's dedication to veterans is exemplary. "When you think of a veteran or a veteran's family that is in need or needs help, you think of Arnie and Ruth. They will do whatever they can to help," Sullivan said.
The couple has two "monumental" accomplishments to be proud of that will last for generations. Ruth pointed out that the Latham Park band shell, the hub of the park, almost was lost if not for Arnie and the AMVETS. It was in 1982 that a deteriorated and badly in-need-of-repair band shell almost was torn down until the AMVETS stepped in and began a fundraising and restoration project that saved the iconic structure for the community. Today, it is the hub of not only the park, but the yearly Lincoln Art Festival as well as other events.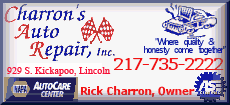 But for both Haaks, the crowning achievement that they became involved in is the AMVETS All Veterans Park on Union Street at the intersection with Pekin Street. The pie-shaped lot was christened in 1988. In 2004 the work began of placing commemorative or memorial bricks with area veterans' names and service information. The park is almost complete, with just a few more spaces available for personal bricks to be placed.
It was noted that the park has frequent visitors almost every day of the year. Ruth agreed and hoped for more interest still. "I wish teachers would bring their classes to the park," she said. "The park can be educational. It seems like there isn't enough teaching of what our veterans did for us, nowadays. The park can be a learning tool for our children to tell them what these people did and to tell them why they should be proud. Some families don't even know their relatives' histories and how they served."
With the Haak family, understanding service to country didn't stop with Arnie. Arnie and Ruth have two sons, Bill and Michael. Michael and his wife, Nancy, served 21 1/2 years in the Navy. Their granddaughter Felicia now is also serving her country in the U.S. Navy.
Ruth and Arnie both acknowledged that in this day and age, all veterans groups as well as other civic organizations are struggling to maintain membership. Ruth feels the problem lies in everyone being too busy and not making time for other things such as veterans' causes.
"We are very proud of Arnie's service. We feel that being involved (in veterans groups) is something we should do, and to keep that same spirit alive in us as when Arnie was in uniform," she said.
It is this keeping that spirit of love of country and for those who have served that makes us proud to add the names of Ruth and Arnie Haak to our own honor roll as this week's Personalities of the Week.
[By MIKE FAK]