Walk for ALS, Trina McGraw, United Way of Logan County, Humane Society, Habitat for Humanity, YMCA Bike Blast and Lincoln Public Library all in Close Up
By Mike Fak
[September 15, 2009] There will be a Walk for ALS, benefiting ALS Worldwide and Michelle Conrady-Brown, on Saturday, Sept. 26, at 10 a.m. at Kickapoo Creek Park, Lincoln. This will be the first of what is intended to be an annual event. Registration is $20 per person. Children under 12 are welcome to walk without a registration fee. All walkers will receive a free "Walk for ALS" water bottle. New "Walk for ALS" T-shirts will be sold and may be pre-ordered before the walk. People are welcome to come out for sandwiches, chips, soda and baked goods at 11 a.m., after the walk. For complete details on how you can be involved in this worthy and needed effort, click here.
---
Congratulations to Trina McGraw from Mason City. At the United Way of Logan County breakfast, Trina's name was pulled and she is now the proud owner of an IGA certificate worth $500 in IGA groceries.
The United Way has begun its 10-week drive to gather money to help support various agencies in Logan County. For the year 2010, the United Way has pledged funds to American Red Cross, Boy Scouts/W.D. Boyce Council, Catholic Charities, Christian Child Care, Community Action Nutrition and Senior Transportation programs, Epilepsy Resource Center, Girl Scouts of Central Illinois, Lincoln/Logan Food Pantry, Lincoln Pastoral Counseling Services, Logan-Mason Rehabilitation Center, The Oasis, TOUCH, United Cerebral Palsy and Lincoln Area YMCA.
Anyone wishing to donate or to become involved with the United Way can call Lois Leonard at 217-735-4499.
---
Pet owners: Please plan to join the Humane Society of Logan County in its LCHS Homecoming Parade walk. We need two people to hold the HSLC banner and lots and lots of people to walk their dogs. We have two foster dogs, but we need members and friends to walk their own dogs. We need to make a "we're here and strong" impression.
The parade is Friday, Sept. 25, at 2 p.m. Rain date is Saturday, Sept. 26, at 10 a.m. More details as they become available. Please call or e-mail Wanda Stevens and state your willingness to be part of the parade: 217-648-2703, 217-737-4042 or wstevens@ccaonline.com.
---
Habitat for Humanity playhouse raffle Sunday, Sept. 20. If you are looking for an early Christmas gift for your children, grandchildren, nieces or nephews, drop by the Habitat for Humanity booth at the Railsplitting Festival at the Logan County Fairgrounds. The 6-foot-by-6-foot wooden playhouse built for Habitat by the men of the Atlanta Methodist Church will be on display Saturday and Sunday. Raffle tickets for the playhouse will be available. The drawing for the playhouse will take place at 4 p.m. Sunday. Habitat will notify the winner.
---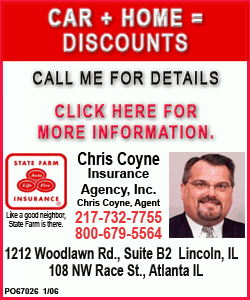 YMCA Biking Blast is also Sunday. Ages 18 and up; under 17 must be accompanied by a participating adult. The bike tour is for both experienced cyclists and the whole family. The YMCA will provide a well-marked 30-mile course for the longer ride and a five-mile family fun ride with scenic views. The proceeds of this event will go to the Y Scholarship Fund, which helps families in financial need afford Y programs. The event will kick off at the YMCA Activity Center, 719 Wyatt Ave. Registration at noon, bike raffle at 12:30 pm, followed by the ride.
For more info, visit http://www.lincolnymca.org/BikingBlast.aspx.
---
There is plenty to do at the Lincoln Public Library this fall. Fall story times will begin the week of Sept. 21. The library offers Lapsit Story Time for little ones ages 6 months through 2 years old and Beginning Book Buddies for 3- and 4-year-olds on Wednesdays at 10 a.m. Ready Readers for ages 5-7 will meet on Tuesdays at 3:30 p.m. Registration for story times begins Sept. 14.
Fall craft classes, open to 8- to 12-year-olds, are offered on Mondays at 3:30, beginning Sept. 21. Sign-up for these classes is no more than two weeks in advance of each week you would like to attend. A list of the planned crafts is available in the Youth Services Department.
---
Got a good piece of news, information or something that we can all brag about? If you do, e-mail Mike and let us tell everyone about it. Plus you can win cash. Every submission, whether we use it or not, will get your name in the "Close Up" grab bag. At the end of the month we will draw a name and someone will get $25 just for dropping us an e-mail. If you wish, we will be happy to donate your winnings to the organization of your choice.
You can contact Mike at mikefak@lincolndailynews.com.
[By MIKE FAK]