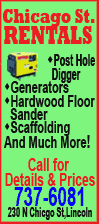 The American Federation of State, County and Municipal Employees sued last month in Johnson County, home to the Vienna Correctional Center.

But the Illinois Department of Central Management Services, the Department of Corrections and their chiefs filed motions Monday asking that the case be moved to Sangamon County, where those agencies are based.

AFSCME argues that the layoffs would create serious safety hazards for Illinois prison workers and would be inappropriate until their impact is assessed. Quinn calls the layoffs necessary to help balance the state budget.

A hearing on the lawsuit is scheduled for Sept. 23 in Vienna.

Copyright 2009 The Associated Press. All rights reserved. This material may not be published, broadcast, rewritten or redistributed.