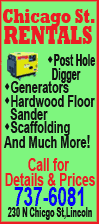 It's just taking him a little time.
The two NHRA drivers were caught on camera yelling and screaming at each other after a race in Indianapolis. Force was accused of deliberately losing his semifinal heat so Robert Hight, his teammate and son-in-law, could advance to the playoffs.
Force's loss also knocked out defending Funny Car champion Cruz Pedregon, which upset the Pedregon brothers. Tony Pedregon and Force had a heated exchange, with Force being escorted away.
"I'm sure he's still mad at me, and I'm mad at him -- you just don't get over it," Force told The Associated Press in a phone interview Tuesday night. "But we'll move on down the road."
Or at least they're trying to. With the NHRA playoffs beginning this weekend in North Carolina, the drivers are trying to patch up their differences.
The two had a brief conversation over the weekend, which served as more of an ice breaker than anything. Tony Pedregon hung up the phone feeling good about their chat.
"I think that we understand one another," Pedregon said in a conference call Tuesday. "It's time for us to move on. I mean, I think we are both bigger and better than to dwell on anything that happened."
Force feels the same way.
"Tony believes in what he feels, I believe in what I feel," said Force, who once was teammates with Pedregon. "He really is a good kid. ... I'm going to the race track to beat Tony Pedregon. The rest of the stuff is just school yard."
Force has regrets from the incident. Namely, that kids saw the scuffle.
"I'm supposed to be a role model," he said. "To let children see two grown men fighting? I should've put the fire out."
The feud also upstaged the win by his daughter, Ashley Force Hood. For that, Force felt even worse.
"It ruined her moment," he said. "We ruined it for her."
When Pedregon and Force spoke, Pedregon made it a point to tell Force to pass along congratulations to his daughter on her win. The comment made an impression on Force.
"Tony and I have our differences. It's a tough deal," Force said. "I care for the kid a lot."
As the two were bickering, Force made physical contact with an NHRA official who was trying to step in to break it up. The NHRA fined Force $10,000 for the contact -- yet another regret he has over the incident.