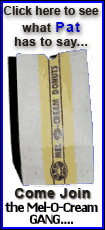 Wainwright (18-8) allowed two runs in seven innings and struck out eight, not quite good enough to make him the major leagues' first 19-game winner. He had been 6-0 with a 1.99 ERA in seven starts since Aug. 8.
The 23-year-old West (7-5) topped his previous strikeout best of seven in six strong innings. He escaped with minimal damage in the fifth when the Cardinals loaded the bases with one out and the middle of the order coming up. Albert Pujols settled for a sacrifice fly to give St. Louis the lead, but Matt Holliday struck out to end the inning.
Leo Nunez, the fourth Florida pitcher, worked the ninth for his 21st save in 27 chances.
The Marlins entered 5 1/2 games behind Colorado for the NL wild card. The NL Central-leading Cardinals, who entered with a magic number of 10, have lost four of five.
Pujols has five grand slams this season and is 9 for 14 with 30 RBIs with the bases loaded, and his 126 RBIs were tied for the NL lead.
The sellout crowd of 42,895 put the Cardinals over 3 million for the sixth straight season and 11th time in franchise history.They have had 29 sellouts this year.
Uggla hit his 29th homer and fourth in seven games. The two-run go-ahead shot to left with two outs in the sixth was the first homer allowed in five starts by Wainwright and only the fourth in 16 outings dating to June 26.
The homer lifted Uggla's career numbers against the 6-foot-7 right-hander to 2 for 15 with two RBIs and seven strikeouts.
The Cardinals had two men on with two outs in the third before Holliday flied out. St. Louis fell to 33-8 since July 1 in starts by their big three of Wainwright, Chris Carpenter and Joel Pineiro.