The Scouts and Culver's, broadband in Broadwell, Humane Society, LC Genealogical & Historical Society, Krystine Schnautz and Megan Callahan at the 'U,' and the Lincoln Jaycees make the Close Up
By Mike Fak
[September 18, 2009] The Boy Scouts will be working hard at Culver's at 2530 Woodlawn Road on Sept. 22 and September 29. The Scouts will be there from 5 to 8 p.m. and a percentage of sales during that time will be given to the troop. The funds will be used to offset the summer camp at Philmont in New Mexico. So come on out to Culver's and have a great meal plus help our local Boy Scouts.
---

Broadband in Broadwell. CCAonline has finished their work and now residents in Broadwell can get the superior quality and service that has made CCA an ever-expanding Internet provider. Area residents who need more information can call CCA at 217-735-2677.
---

Free dog food to those in need. On Tuesday, Sept. 22, the Humane Society of Logan County will be distributing dog food to those who are in need. The HSLC office at 113 S. Sangamon St. in Lincoln, next to the Blue Dog Inn, will be open from 11 a.m. until 1 p.m. and again from 5 until 7 p.m. or until supplies are depleted.
---

The Logan County Genealogical & Historical Society would like to invite the public to attend the LCGHS monthly meeting on Monday, Sept. 21, at 6:30 p.m. Krista Lessen will present a program entitled "Discovering the history of my home and how I found a secret room in my home." The meeting will be at 114 N. Chicago St. in downtown Lincoln.
---

Krystine Schnautz, sophomore outside hitter for Lincoln Christian University, was named as the NCCAA Division II National Player of the Week in women's volleyball for the week ending Sept. 13. Schnautz won the MVP as she led LCU to the championship of the NCAA Division III tournament at Rose-Hulman. She led the team with 72 kills in four matches, 4.8 kills per game, with an attacking percentage of .455. Megan Callahan was also named to the all-tournament team as the outstanding setter. In case you didn't catch this in yesterday's Sports section, Lincoln Christian University's volleyball team is ranked No. 1 in the nation in the National Christian College Athletic Association's weekly rankings in Division II volleyball.
---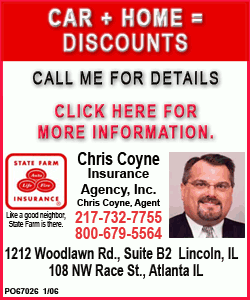 The Lincoln Jaycees are looking for volunteers to help build, run and tear down this year's Haunted House. Volunteers must be at least 16 years old. Volunteering at the Haunted House is eligible for required educational community service hours as well as a lot of fun! Anyone interested in volunteering can stop by the Haunted House location at 390 Limit St., next to Modern Brake and AmerenCILCO, to sign up or get more information. You can also contact Perry Payne at 217-871-4440.
The Lincoln Jaycees are a not-for-profit organization that services Lincoln and the surrounding communities. The Lincoln Jaycees give young people between the ages of 18 and 40 the tools they need to build the bridges of success for themselves in the areas of business development, management skills, individual training, community service and international connections.
The Lincoln Jaycees host various community activities such as an Easter egg hunt, Breakfast with Santa and Angel Tree. The Jaycees have a variety of management and fundraising projects besides their Haunted House, including Lincoln Speedway 50-50.
---
Got a good piece of news, information or something that we can all brag about? If you do, e-mail Mike and let us tell everyone about it. Plus you can win cash. Every submission, whether we use it or not, will get your name in the "Close Up" grab bag. At the end of the month we will draw a name and someone will get $25 just for dropping us an e-mail. If you wish, we will be happy to donate your winnings to the organization of your choice.
You can contact Mike at mikefak@lincolndailynews.com.
[By MIKE FAK]