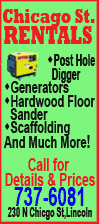 The Democrat says the move came after the state's General Assembly earlier this year funded the Illinois Supreme Court's budget for operational expenses and grants at only 56 percent of the court's request.

That court reimburses the state's 65 probation departments up to 65 percent of the salaries of probation officers.

Quinn's action Tuesday brought the high court's funding level to 82 percent of what it got last fiscal year.

Some counties have insisted that drastic reimbursement cuts will mean layoffs and that fewer probation officers watching after sex offenders and other criminals could harm public safety.

Copyright 2009 The Associated Press. All rights reserved. This material may not be published, broadcast, rewritten or redistributed.