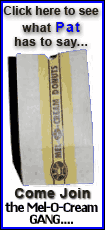 Video of the incident during Saturday's 38-34 Wolverines victory in Ann Arbor, Mich., spread on the Internet. Mouton appears to punch lineman Eric Olsen under the chin as they get up from the turf following a play midway through the second quarter.
On Friday, Big Ten commissioner James Delaney called the punch "unacceptable."
Michigan coach Rich Rodriguez said he never saw the punch and planned no discipline against Mouton. The Big Ten said the school accepted the suspension.
No. 25 Michigan (2-0) plays Eastern Michigan (0-2) at home on Saturday.