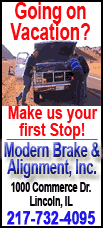 Markets overseas are mixed. Asian markets fell slightly overnight, while major European indexes are inching higher.
Investors are awaiting word from the U.S. central bank as it wraps up a two-day policy meeting this afternoon, hoping for more clues about the strength of the economy's recovery, as well as a clearer indication of when the government may raise interest rates in the future.
Dow Jones industrial average futures are up 2 at 9,773. Standard & Poor's 500 index futures are up 0.30 at 1,067, while Nasdaq 100 index futures are down 0.50 at 1,733.