Authorities seek community's help in Beason slayings
Vehicle of interest sought
Victims not shot
Survivor stable

Send a link to a friend
[September 23, 2009] Logan County Sheriff Steve Nichols held an outdoor press conference on Wednesday morning to discuss the ongoing case of the Beason family slayings.
The sheriff said that authorities were soliciting the community for information about a vehicle witnesses reported seeing in Beason late on Sunday night and early Monday morning.

The vehicle of interest is a gray-primered Ford Ranger or Chevy S-10. Nichols said that another distinguishable feature is that the chrome exhaust is located in the bed of the truck rather than its normal position at the rear of the truck.

The sheriff said that if anyone has any information on this vehicle, they should contact his office at 217-732-4159.

Nichols went on to say that any information regarding this crime would be appreciated. "We will take any tip anyone has," he said. "No tip is too small!"

At the Tuesday morning conference, five family members were confirmed dead: Raymond "Rick" Gee, 46; his wife, Ruth Gee, 39; Justina Constant, 16; Dillen Constant, 14; and Austin Gee, 11. The sheriff said today that the autopsies were completed and that he expects to receive the reports soon for review.

He advised the community to use precautions during this investigation: "Keep your doors locked, know where your kids are, and keep an eye on your neighbors."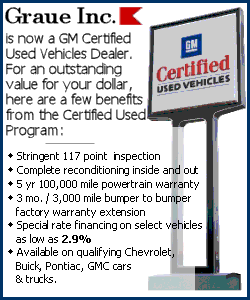 There was a flurry of media questions when Nichols said that none of the victims was shot and that no gun was used in the slayings of the five family members. When asked if that meant the family had been stabbed, the sheriff would not say. That information would compromise the investigation.
Passing on any other questions that might interfere with the ongoing investigation, the sheriff did acknowledge that the 3-year-old family member was in stable condition at a Peoria hospital. A sheriff's deputy is also at the hospital standing guard.
Nichols also said that none of the Gees' other relatives are in protective custody.
The next press conference has been scheduled for 4 p.m. on Thursday.
[By MIKE FAK]