Personality of the Week info, Together for Lincoln clothes swap, Habitat informational meeting, Eric Horn, Lincoln Emblem Club and KC Electric bowlers make the Close Up
By Mike Fak
[September 25, 2009] Our Personality of the Week is by far our publication's most popular feature. We just wanted you to know about a small change, plus advise you about something you might not know. We have changed this feature to being on Tuesdays rather than Mondays. This community is so active over the weekend that it is difficult to make sure our personality's story is ready first thing Monday. By waiting until Tuesday, we have a chance to make sure that what we present to you is the best we can deliver. After all, our Personality of the Week deserves that.
Also, for those who want to read our Personality of the Week features again, or to check and see if you might have missed one of these great stories, they are all here at http://www.lincolndailynews.com/
News/today_personality_list.shtml. This file is just one of the hundreds of files we keep online and free to all our readers, thanks to our great sponsors.
---

As part of Together for Lincoln this weekend, Lincoln Christian Church is having a communitywide clothes swap. They are asking anyone from the community to bring outgrown and no longer wanted but still useful clothes to the Lincoln Christian Church Fellowship Hall between 9 a.m. and 3 p.m. on Saturday, Sept. 26. Then on Sunday, Sept. 27, anyone may come back to Lincoln Christian Church between 10 a.m. and 3 p.m. and select items they need from the contributions. Everyone is asked to bring what they can and take what they need. Children and adult clothes are welcome. Items left over at the end of the swap will be donated to area homeless shelters or overseas missions. If anyone has questions or would like to help, they may call Leslie Starasta at 217-732-7970.
---

Habitat for Humanity

of Logan County will have an orientation meeting for applicants at 1:30 p.m. Sunday, Oct. 11, in the Community Room at 1028 N. College St. in Lincoln. Those who are willing to partner with Habitat to build their home are encouraged to attend, whether or not they have filled out an application.

Steve Allen, chairman of the local Habitat selection committee, will share information about Habitat's homeownership program and qualifications for acceptance into the program. Applications will be available for those who wish to fill one out. Refreshments will be served following the meeting.

Habitat may be contacted at 732-6412, should you have a question. Please state your name and phone number clearly and your call will be returned. You may also contact Steve Allen at 732-7776 or Tonita Reifsteck, Habitat president, at 732-9796.
---

Kathy Horn is a proud mom. Her son Eric is deployed to Bagram, Afghanistan. The Air Force has a site to show what our loved ones are doing, and Kathy's son is picture #090912-F4859J036JPG. She says she sure would rather see him with his nail gun in his hand than any other kind of gun, but she is proud of his service to country. Eric was also chosen Airman of the Week, quite an honor from his peers over there.
---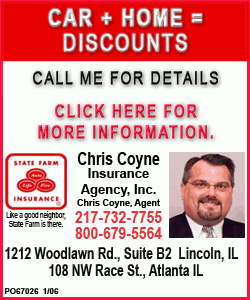 The Lincoln Emblem Club entered the Americanism display contest at the recent Supreme Emblem Convention in Valley Forge, Pa. The club is proud to announce that they placed first with their display. The display theme, "Lincoln Pride," was a club project that followed Abraham Lincoln's time spent in Lincoln and Logan County. It was centered on his 200th birthday and the celebrations in Lincoln and Logan County. It was a work of enormous pride to be able to represent Lincoln and show the "pride" we have in our namesake.
---
KC Electric bowlers placed second in the state of Illinois for prep girls. Team members are Crystal Graeser, Taylor Yeazle, Tosha Boyer, Carson Rickord and Kylee Alexander. The team total for scratch pins was 1,449 with a handicap total of 3,526. (Click on picture for larger image.)
---
Got a good piece of news, information or something that we can all brag about? If you do, e-mail Mike and let us tell everyone about it. Plus you can win cash. Every submission, whether we use it or not, will get your name in the "Close Up" grab bag. At the end of the month we will draw a name and someone will get $25 just for dropping us an e-mail. If you wish, we will be happy to donate your winnings to the organization of your choice.
You can contact Mike at mikefak@lincolndailynews.com.
[By MIKE FAK]