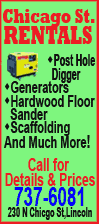 The FCS is visiting one farm family per day this week for a total of five visits.

According to John Hartman, vice president of ag financial services, each year families are asked to register if they would like a chance at "winning" a free catered meal.

For Tuesday the winners were David and Lisa Conrady of rural Elkhart.

The Conradys along with their son Brett farm a total of 1,700 acres, plus they run a farrow-to-finish hog operation. They employ three full-time farmhands and add a couple more part-timers during the harvest season.

David said that son Brett manages the majority of the grain operation, while he oversees the livestock production.

The family is hoping that they will be able to start with harvest in the next week or so, providing it doesn't rain too much.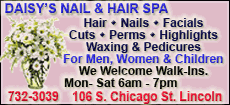 A portion of the corn harvest is used for livestock feeds, and the balance plus the soybean crop will eventually go to market.
As the noon hour arrived, the Conradys gathered in the garage at Brett's house and were joined by David's parents, Ben and Rose Mary Conrady, along with the farmhands.
Hartman said that each year for the past six, FCS has offered the catered meal to their customers as an observance of National Farm Safety Week. He explained that during the harvest season, hours are long and hard, and folks don't take the time to rest that they actually need.
Delivering the lunches to them gives farmers an opportunity to stop a while, eat a bite, visit with the FCS staff and in general just relax for a few minutes.
Hartman laughed and said that this year, with crops being a bit late, the meals are more like a pre-harvest feast.
The Farm Credit Services office in Lincoln, located at the corner of Kickapoo and Tremont streets, services Logan and Menard counties. The office is staffed by Hartman; Matt Wrage and John Klemm, both insurance specialists; and Angela Briggs and Alicia Gullidge, who are financial services representatives.
The firm offers competitive loans exclusively to farmers, along with crop insurance and life insurance.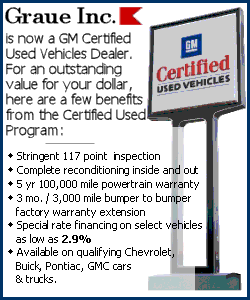 Hartman says that they offer an option to farmers other than a conventional banking institute, and they do a few things that make them special. He said that they do business in a casual setting, and that oftentimes, he finds himself setting up office around his customer's kitchen table.
The company slogan is "We Understand," and Hartman says that the staff does understand the needs and circumstances of the modern-day farmer.
The firm offers loans for operating costs, real estate purchases and farm equipment purchases, and offers multi-peril crop insurance as well as crop hail protection.
While FCS is not a bank, they do offer what they refer to as a funds-held account. In this account, customers can deposit money and it will earn the same interest rate as they are being charged on their loan. For example if their loan is on a 6 percent annual percentage rate, their funds-held account will also earn 6 percent APR.
Hartman said that what makes FCS different from a commercial bank is that they sell bonds on Wall Street and are part of a nationwide system of lending cooperatives. The money they lend out comes from the sale of those bonds. In the commercial banking industry, the money available for lending comes from checking and savings accounts.
Hartman says that through the tough economic times of the past year, FCS has stayed strong. He credits their success on Wall Street to the excellent reputation of the company on the whole.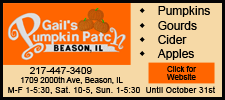 The company also spends a lot of time showing their appreciation to their customers through special events. Hartman said there was a large appreciation dinner this summer, the meals in the fields this week, and then there will be an "elevator feed" in October in partnership with the local Pork Producers Association. In November, FCS will host a ladies-only shopping trip to St. Louis.
[By NILA SMITH]