Oasis notes

For the week of Sept. 28-Oct. 3

Send a link to a friend

[September 26, 2009] Cards 4 U

Join us at The Oasis on Monday, Sept. 28, beginning at 10 a.m., to brush up on old card games or learn new card games.

Traveling bingo

Come travel to the Atlanta Community House for bingo on Monday, Sept. 28. Bingo will begin at 1 p.m.

Bunco

Join us for bunco at The Oasis beginning at 1 p.m. Monday, Sept. 28. Refreshments will be provided by Marilyn Armburst from Regions Bank.

The Oasis, Logan County's senior citizen center, 501 Pulaski St. in Lincoln, is open weekdays, except holidays, from 9 a.m. to 4 p.m. The center also is open on Friday and Sunday nights for table games. Dominic Dalpoas is the executive director.

Activities are open to all Logan County senior citizens, regardless of membership. Friends of The Oasis members receive a bimonthly newsletter by mail and reduced rates for classes and trips. For more information, call 732-6132 or 732-5844.
Tuesday's lunch
The 11:30 a.m. lunch for Sept. 29 features chicken and rice casserole, mixed vegetables, bread and butter, and dessert. The suggested donation is of $3.75, or if you stay to play cards, the cost is $3.25. The reservation deadline is 4 p.m. Monday, Sept. 28.
Veterans Administration
The Oasis is a host site for the Veterans Administration. A VA rep will be at the senior center on Tuesday, Sept. 29, from 9 a.m. to 4 p.m. Service is on a first-come, first-served basis.
Bingo sponsored by Maple Ridge
Maple Ridge will sponsor bingo at The Oasis on Oct. 1, beginning at 1 p.m.
Senior bowling is back
The Oasis in conjunction with Logan Lanes will resume our first Friday Senior Bowl Fun Day on Oct. 2, beginning at 10 a.m. No-tap bowling. Cost is $5, which includes shoes and games.
Fall card party
The fall card party will be Oct. 3, beginning at 1 p.m. Ticket cost is $5, and you can purchase tickets at The Oasis.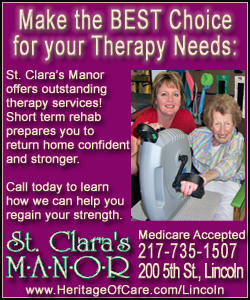 Card games
The Oasis plays all sorts of card games for your entertainment. The pinochle group meets Tuesday-Friday at noon and also on Friday and Sunday nights at 6. Check with us for days and times of other groups.
Card winners
Daytime pinochle winners were Doris Steffens and Helen Opperman. Weekend pinochle winners were Betty Oltmanns and Wilbur Wilmert. The five-in-one winner was Marilyn Schneider.
[Text from Oasis news release]