Movies and TVs in 3-D are no longer surprising. Sony Corp. and Panasonic Corp. of Japan, as well as South Korea's Samsung Electronics Co. and LG Electronics, already sell or are planning 3-D TVs.
The drawback until now has been the need for special glasses, which show different images to the right eye and the left eye. Sharp's 3-D technology doesn't require them because the displays are designed to shoot different images to each eye.
The technology may be applied to TVs in the future, said Executive Managing Officer Yoshisuke Hasegawa. But he acknowledged it now works better when the distance between the viewer and the screen is fixed.
The smaller displays, shown Friday, are intended for mobile devices such as cell phones, game machines and digital cameras.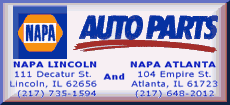 The 3-D animation on the handheld screen looked like a miniature version of the 3-D animation we are used to seeing on larger TV screens, though images were less convincing than those seen in a darkened cinema.
Photos on the touch screen were less clear and even a bit blurry from certain angles, though Sharp said its latest technology does away with such "ghosting" effects.
Still, the system promises gaming and technology fans the potential for pop-up e-mail messages and taking 3-D photos of friends.