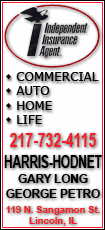 In about six months, the new law will allow at least 2 million young adults to be covered under their parents' policies. These are the "millennials," those who came of age in the new century and now are struggling to get on their feet during the worst slump since the Depression.
Many can't find jobs, and many who are employed don't have health coverage from their employers.
The law will allow young adults to stay on or return to their parents' insurance until age 26. To qualify, young people must be "dependents" of their parents. They don't necessarily have to live under the same roof.
Lawson, a Gettysburg College administrator in Pennsylvania, said she is hoping to get her daughter back on her health plan because she is tired of playing "a roulette game." Her daughter has just a temporary job that doesn't provide insurance.
"You're banking on your child staying well," said Lawson, who has been a single parent since her husband died of cancer three years ago.
Regulations still have to be written, but here are some of the crucial specifics of the new law, based on a reading of the measure and interpretation by various experts:
-It applies to young adults up to their 26th birthday who don't have access to insurance through their employer.
-There is no dispute the measure applies to young people away at college. It is widely assumed the law also covers other young people living on their own.
-It will include married children but not their spouses or their kids.
-It is unclear whether parents must wait until their health plan's next open enrollment period to sign up their uninsured older children.
-Young adults who live in a different state from their parents should check to see if their parents' health plan covers medical services where they live.
This is the first time the federal government has forced insurance companies to let young adults stay on their parents' policies. More than half the states already have laws that extend the age of dependent coverage. New York and New Jersey push it all the way to age 30 and 31 and would be allowed to keep those provisions.
The new federal law "provides a minimum, not a maximum," said law professor Timothy Jost of Washington and Lee University. Also, while many state laws do not apply to coverage from self-insured employer plans, the federal law will, experts say.
Much will depend on regulations to be written by federal health officials.
Among other things, Health and Human Services will have to decide what constitutes "dependent," and the definition will not necessarily be the same one used by the Internal Revenue Service for tax purposes. Also, HHS will have to clear up the issue of whether young people who live far from home can stay on their parents' plans.
Young adults in their 20s are the most likely age group to be uninsured, and nearly 30 percent of them lacked insurance in 2008.
"Given the downturn in the economy and the unemployment rate among young adults, it's a really important provision in the bill," said Sara Collins of the nonpartisan Commonwealth Fund.
Since 2003, the group has written a report titled "Rite of Passage?" about uninsured young adults and how they often lose health coverage at age 19 or upon high school or college graduation.