Against all Odds

Send a link to a friend
[April 20, 2010] --I don't know if you've thought about it much but there are people who, by profession, are odds makers. These are people who figure out life insurance tables, sporting events, owners and operators of casinos and stock brokers who actually sort out the long shots from the sure things.
There are people who can mathematically assure you that your car is 30% more likely to be stolen if it's a Corvette than if it's a Ford Contour. If you're still driving a Ford Pinto these days … the odds say it's impossible to be stolen. You don't need a security alarm … you can just leave the keys hanging from the ignition.
These "odds makers" can tell you that you're 10 times more likely to get hurt riding a bicycle than riding in a car. I found it fascinating that the odds are twice as good for you to be struck by lightning three times in the same place as it is for you to win the Mega Millions lottery.

Some people make their living by figuring out odds like these. Usually, they're pretty accurate. But the odds makers were wrong about Jesus. They were just wrong. And the odds makers were just wrong about whether he could stay dead.

Oh, it was a long shot. Call it a million to one shot. But he came back to life. There is an empty tomb in Israel that still bears witness to that historical reality. There were 500 eye witnesses that said it was a fact. It happened against all the odds.
To this day, every year, millions of people, from all over the world, experience an awakening and a transformation when they decide to believe and trust the Bible. And this just baffles the skeptics who think this thing should have gone away
centuries ago. But it's not going away.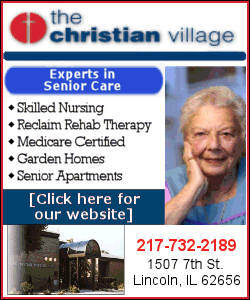 It's gaining strength all over the world. I like to call it, "Easter Power!" People need it … people want it …people are finding it and experiencing it … and now here we are again … offering it to you.
Maybe someone you know could use some Easter Power in their life. Maybe … they're just waiting for an invitation from a friendly face. Maybe … that friendly face could be yours.
[Ron Otto, Lincoln Christian Church]