Boy Scout Troop 102, 'This day in history,' Cards, Cubs and White Sox, Beason playground fundraiser, Johnny Everist Band, and the YMCA in Close Up
By Mike Fak
[April 06, 2010] The Boy Scout Troop 102 spring barbecue is this Saturday, April 11, at the Knights of Columbus Hall. The hours are from 10:30 a.m. until 2:30 p.m. Featured is authentic Southern pulled pork, Charlie Lee's famous baked beans, coleslaw, potato salad, iced tea, lemonade and coffee.
The tickets are $7.50 for adults and a kids' meal is available.

The proceeds from this annual event help fund the troop and your patronage is encouraged. Last year almost 600 meals were served.

You can purchase tickets from the Scouts or at the door.
---

"This day in history" gets a second home starting Tuesday, April 6. The popular article has been nestled in our Leisure section, but we know many of you are busy and don't always read our entire publication, although we appreciate it when you can. So from now on, "This day in history" will remain in Leisure but also be at the bottom of each edition's Top Stories section.
---

Cards, Cubs and Sox always in the Sports section. We are delighted to see another season of Major League Baseball begin, and as always we will carry reports of all the games the Cards, Cubs and White Sox play. We will also carry other games of importance, but we promise your favorite team's games will be in every issue.
---

There will be a Beason playground fundraiser at Daphne's Restaurant, 720 Woodlawn Road, on Friday, April 9. The public is invited to attend, and 15 percent of the business's proceeds will go to the playground fund in memory of the Gee and Constant children. The restaurant's hours are 8 a.m.-8 p.m.
---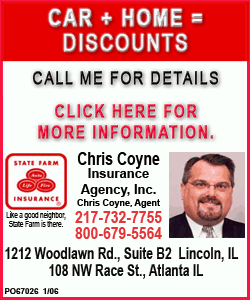 The Johnny Everist Band will be at Chad's Blind, 1230 Fifth St. in Lincoln, on Saturday, April 10. If you like Led Zeppelin, you will LOVE Johnny playing classic rock from the '70s, '80s and more. The hours are 9 p.m.-1 a.m.
---

If you love to drip, pour, splatter, run and more with paint, then the Lincoln YMCA has just the program. Register now for Jackson Pollock Art class. This class is for kids in first through sixth grade and will meet on Friday, April 16, from 4:30 to 6 p.m. at the Y Activity Center. The cost is $10 for Y members and $13 for non-Y members through Friday, April 9. Registrations received after that will pay an additional $3 per participant. For details, call 735-3915 or visit www.lincolnymca.org.
---
Got a good piece of news, information or something that we can all brag about? If you do, e-mail Mike and let us tell everyone about it. Plus you can win cash. Every submission, whether we use it or not, will get your name in the Close Up grab bag. At the end of the month we will draw a name and someone will get $25 just for dropping us an e-mail. If you wish, we will be happy to donate your winnings to the organization of your choice.
You can contact Mike at mikefak@lincolndailynews.com.
[MIKE FAK]