Today's highlight in history:
On April 6, 1909, American explorers Robert E. Peary and Matthew A. Henson and four Inuits became the first men to reach the North Pole.
On this date:
In 1830, the Church of Jesus Christ of Latter-Day Saints was organized by Joseph Smith in Fayette, N.Y.
In 1862, the Civil War Battle of Shiloh began in Tennessee as Confederate forces launched a surprise attack against Union troops, who beat back the Confederates the next day.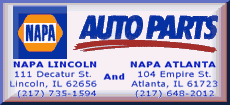 In 1896, the first modern Olympic games formally opened in Athens, Greece.
In 1917, Congress approved a declaration of war against Germany.
In 1945, during World War II, the Japanese warship Yamato and nine other vessels sailed on a suicide mission to attack the U.S. fleet off Okinawa; the fleet was intercepted the next day.
In 1963, the United States signed an agreement to sell the Polaris missile system to Britain.
In 1965, the United States launched the Intelsat I, also known as the "Early Bird" communications satellite, into orbit.
In 1971, Russian-born composer Igor Stravinsky died in New York City.
In 1985, William J. Schroeder (SHRAY'-dur) became the first artificial heart recipient to be discharged from the hospital as he moved into an apartment in Louisville, Ky.
In 1994, the presidents of Rwanda and Burundi were killed in a mysterious plane crash near Rwanda's capital; widespread violence and killings erupted in Rwanda over claims the plane had been shot down.
Ten years ago: The father of Elian Gonzalez, Juan Miguel Gonzalez, arrived in the United States to press for the return of his 6-year-old son to Cuba. A private company mapping the human genetic blueprint announced it had decoded all of the DNA pieces that make up the genetic pattern of a single human being.