O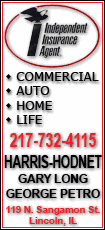 riginally, Zion Lutheran School was started as a preschool in 1973. The germ for Christian education was planted when the pre-kindergarten children from Redeemer Lutheran School in Peoria sang for a pastoral conference in May of 1973. Their singing so impressed Pastor Goldberger, then pastor of Zion in Lincoln, that he expressed to the church's committee on Christian education his hopes to establish a pre-kindergarten of their own. The committee agreed and the proposal was submitted and passed by a voters' assembly on July 19, 1973.

The fledgling school's first teacher was Mrs. Virginia Apel, and with the help of several dedicated helpers a room was prepared in the educational building for the first class of 10 students.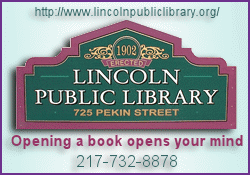 In 1974, 10 children were enrolled in the preschool.
In 1975, Mrs. Apel moved from the area, and Donna Sauer was hired to take her place.
In the next few years, as the children grew older, additional grades were added. The first eighth-grade class started in 1979.
The growth of the school meant that it required a new facility. In March of 1976 a building fund for the present Zion Lutheran School was begun. On July 15, 1978, the church voted to build the new school that currently is on Route 10 on the west end of Lincoln. On April 20, 1980, the new school was completed and dedicated.
Mrs. Sauer, still with the school, wears many hats. She currently is the assistant principal, fourth-grade teacher, librarian and one of the school's historians.
Sauer along with Steve Schumacher, the principal at the school for the last 19 years, explained the curriculum and values that are taught at Zion Lutheran School.
Sauer stressed that the small school, with a current enrollment of 132 students, depends on the parents of students present and past to help maintain the standards of variety that the small school offers its students. In sports, the school offers basketball for both boys and girls, as well as track. Boys have a baseball team, and the girls have volleyball and cheerleading, just to name a few. And all the coaches are volunteers who donate their time with no pay.
The school offers many other extracurricular activities besides just sports. Every year all classes go on field trips to various places, depending on their ages, from Starved Rock to a day in St. Louis.
The school is active in the Lutheran ACT Bowl, Bible Bowl, Spelling Bee and Geography Scholastic Bowl for children who want to be involved in academic activities. Zion students also excel in the History Fair, Science Fair and the annual American Legion essay contest.
The school offers band and choir for students who enjoy music, and there are also several concerts and two yearly musicals, as well as plays each year. Sauer said that although band is for fifth- through eighth-graders, the school offers beginning band for fourth-graders to get them started as early as possible with their passion for music.
The school even has a speech team, which is rare in a small parochial school.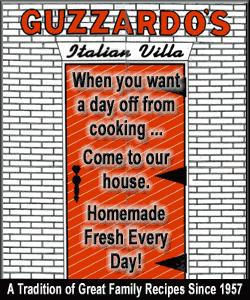 Both Sauer and Schumacher expressed their appreciation for parents who continue to be involved with school functions even after their children have graduated, and they call all the unpaid volunteers' help "invaluable."
The school understands that we live in a world of modern technology and starts the students off early on learning computer skills. They have a computer lab and start as early as the pre-K and kindergarten classes on learning keyboarding.
In a recent survey of both parents and students, several consistent remarks were in the replies. Both students and parents appreciated the varied activities and chances to broaden a child's understanding of the world in an engaging way. That the school offers many activities at an early age also sets the school apart from others, according to several parents.
In several replies the children mentioned how much fun they had attending school every day and learning more from the nurturing environment that is a tradition at Zion Lutheran School.
Like all schools, both parochial as well as public, the school must watch its finances in these economic times. Schumacher said that Zion Lutheran Church is essential to the school with donations, and Faith Lutheran helps their congregation's students afford the tuition costs as well.
Area children's numbers have been on a decline in recent years and that also puts a stress on enrollment, but both Sauer and Schumacher said that parents wishing to give their child a diverse and quality education while stressing the principles of Christian values in their teachings should contact them to learn more about an education at Zion.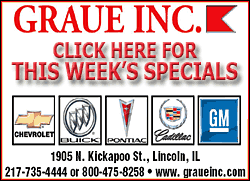 Parents who want to know more can contact Schumacher at the school at 732-3977. He said that the school is happy to discuss future education plans for children and can discuss tuition fees with concerned parents.
It is obvious to anyone entering the school that Zion is a school where values are lived and taught by caring teachers. Zion graduates often excel in high school and college, and in their life endeavors.
The school is open to all members of the community, regardless of religious background and does not discriminate on the basis of race, color, or national or ethnic origin. Zion is accredited by National Lutheran School Accreditation and is recognized by the Illinois State Board of Education.
[LDN; text from files received]
(Zion Lutheran School, Lincoln)