On April 9, 1959, NASA announced the selection of America's first seven astronauts: Scott Carpenter, Gordon Cooper, John Glenn, Gus Grissom, Wally Schirra, Alan Shepard and Donald Slayton.
On this date:
In 1682, French explorer Robert de La Salle claimed the Mississippi River Basin for France.
In 1865, Confederate Gen. Robert E. Lee surrendered his army to Union Gen. Ulysses S. Grant at Appomattox Court House in Virginia.
In 1939, singer Marian Anderson performed a concert at the Lincoln Memorial in Washington, D.C. after she was denied the use of Constitution Hall by the Daughters of the American Revolution.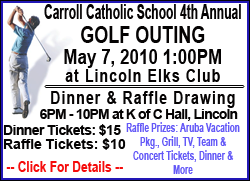 In 1940, during World War II, Germany invaded Denmark and Norway.
In 1942, American and Philippine defenders on Bataan capitulated to Japanese forces; the surrender was followed by the notorious Bataan Death March which claimed thousands of lives.
In 1947, a series of tornadoes in Texas, Oklahoma and Kansas claimed 181 lives.
In 1959, American architect Frank Lloyd Wright died in Phoenix, Ariz., at age 91.
In 1960, the Boston Celtics won the NBA Finals for the second year in a row by defeating the St. Louis Hawks 122-103 in Game 7.
In 1965, the newly built Astrodome in Houston featured its first baseball game, an exhibition between the Astros and the New York Yankees. (The Astros won, 2-1, in 12 innings.)
In 1983, the space shuttle Challenger ended its first mission with a safe landing at Edwards Air Force Base in California.
Ten years ago: President Eduard Shevardnadze (sheh-vahrd-NAHD'-zeh) won a second term as leader of Georgia; Peruvian President Alberto Fujimori (foo-jee-MOHR'-ee) fell just shy of the majority needed to avoid a runoff for an unprecedented third term. Vijay Singh (VEE'-jay sing) won the Masters, closing with a 3-under 69 for a three-stroke victory over Ernie Els.