Sunday, April 11, 2010, Pastor Tony Shuff announced his resignation from Neighbors to Nations Community Church as lead pastor. With blessings and well wishes to all, Pastor Tony concludes 26 years of ministry with the church. The Shuff's take with them many shared memories and successes of foreign and home missions work, music, youth, and children involvement, as well as pastoral ministry. The Shuff's look forward to the up-coming wedding of their younger daughter, Rachelle, and other ministry travels this year.

The Shuff family wishes the congregation, ministry team, and area friends, "All God's best" for the days ahead.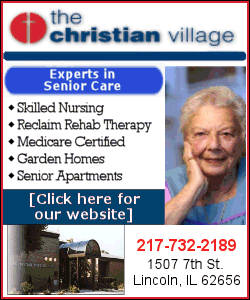 ---
The public is invited to a Spring Praise Service to be held on Sunday, April 18 at 6:00 p.m. in the Chapel of Camp Griesheim Christian Retreat Center in Atlanta. Devotions will be lead by Rev. Frank D.
Pieper, retired Pastor of St. Peter's Lutheran Church-Emden. Music will be provided by Southern Gospel Music will be presented by the "Gospelaires" at the Camp Griesheim Christian Retreat Center on Sunday, April 18 at 6:00pm. The Gospelaires, Daryl Birkey, Kevin Litwiller, Debbie Stalter and KaEllen Schrag have been singing at numerous churches and community events for over 20 years.


---
Kristen Evensen, an emerging composer and performer of Christian music, will bring her music to the First Presbyterian Church this Wednesday, April 14 at 6:00 p.m.

A music theatre major at Illinois Wesleyan University, Evensen is from Crystal Lake, Illinois. Her music has been acclaimed as the newest wave in the Christian genre and all are welcome to hear Kristen play and sing on Wedneday evening
---
[text from files received, Jo Hilliard LDN Spiritual Life editor]
Send your church announcements and articles to

Send a link to a friend