Early education is an important building block in children's lives. During these years children through play learn the skills of cooperation, problem-solving and self-worth. Staff members at Christian Child Care make it their business to nurture these qualities.
Christian Child Care is already planning for summer activities. This year's summer theme is "Reuse, Recycle and Rejoice." Summer registrations are being accepted now.
Also this summer the center will have evaluators come to observe for accreditation. It will be an exciting time for teachers and staff to make sure they are ready for this big step in establishing and proving quality by accreditation standards.
April 22 the center is having a drive-by pork chop dinner. Tickets are $8. Call Coleen Moore, director, at 732-5750 for more information on tickets and openings for summer registration.
---

The Salvation Army of Logan County announces a volunteer open house in honor of National Volunteer Week 2010. The event is scheduled for Saturday, April 17, from 10 a.m. to 2 p.m. at the Keest Center, 307 N. Kickapoo St. in Lincoln. Both past and present volunteers are invited to come and learn about new seasonal programs.
For spring, summer and fall 2010, people interested in learning more about assisting and serving with Salvation Army's summer and fall seasonal assistance programs as well as year-round emergency disaster services will have an opportunity to meet the Logan County director, Rebecca Van Nydeggen, and to talk with experienced volunteers. For more information, call 217-732-7890.
---

There is a Family Reading Night on Thursday, April 15, from 5:30 to 6:30 at the Lincoln Parent Center, 305 N. Kickapoo. For more information, call 217-735-4192. Please join the evening of family reading fun and activities.
---

Washington-Monroe School honor roll -- third nine weeks
High honors:
Third grade -- Kacey Bennett, Laura Centers, Tony DiPasquale, Wyatt Collier, Cassie Everson, Kennedy Freese. Trey Whitetree
Fourth grade -- Ryan Boyd, Titus Cannon, Tabitha Coley, Abbigayle Parrish, Justin Woods, Kelsey Lee
Fifth grade -- Emily Bergman, Danielle D'Andrea, Laura Hurley, Lindsey Myers, Ashlyn Scruggs, Trent Whitham, Macie Rankin, Nolan Hullinger, Cole Kindred, Bryson Kirby
Honors:
Third grade -- Jacob Franklin, Hilary Lucas, Ivy Pierce, Luke Rogers, Natalie Schaller, Destini Thompson, Brendon Eigenbrod, Jillian Ruff, Bryce Watkins, Maddie Yeates
Fourth grade -- Jaiden Aeilts, Allena Benninger, Jason Beverman, Grace Bossingham, Adriana Doolin, Isaiah Lane, Tate Sloan, Braiden Tisdale, Taylor Carter, Justin Hatfield, Nathan Long, Shannon Rahn, Kevin Rhoades, Kisha Selph, Ariana Spencer
Fifth grade -- Christian DeVore, Martin Glick, Samantha Johnson, Alex Linares, Devon McGrew, Noah Morgan, Hunter Jessee, Connor Aeilts, Kaelin Butterfield, Honna Doolin, Ericka Dzekunskas, Shelbi Fisher, Austin Gray, Chenille Hubner, Stephanie Parrott, Izzy Robbins, Nate Sprague, Seth Turley
Honorable mention:
Third grade -- Corey Harris, Caleb Rhoades, Kaylyn Gore, Carl Fisher, Jatrell Belt, Kaleb Franklin, Sara Harding, Haley McDaniel, Harley Naugle, Aven Thompson
Fourth grade -- Luke Bennett, Ethan Goodey, Brayden Hunter, Josh Linares, Hailey Ransdell, Michael Quarrell
Fifth grade -- Taylor Albertson, Ashanti Bonaparte, Sydney Dial, Brock Laubenstein, Katelyn Newby, Austin Newton, Tyler Albertson, Sydney Anderson, Kyle Freese, Darian Hardwick, Bryson Maxey, Selena Quezada, Justin Ruff, Josephine Shivers.
B.U.G. -- Bringing Up Grades:
Haylee Alley, Stephen Hopper, Megan Siddens, Ashley Miller, Sydney Dea, Isaiah Moore
---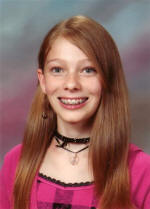 Emma Nobbe, seventh-grader at Zion Lutheran School in Lincoln, has been selected as Zion Lutheran March Student of the Month. Emma's ZLS activities include cheerleading, track and field, speech team, choir, choir chimes, spelling bee and state history fair. She is a member of Jefferson Street Christian Church. Her church and community activities include youth group, VBS crew helper, church library volunteer, Together for Lincoln, talent show, jazz dance and piano. Emma's parents are Dr. Todd and Chris Nobbe of Lincoln.
---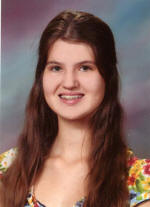 Megan Opperman, eighth-grader at Zion Lutheran School in Lincoln, has been selected as Zion Lutheran March Student of the Month. Megan's ZLS activities have included honor roll, band, choir, choir chimes, track and field, student council, and volleyball. Her church and community activities include youth group, Chester 4-H, nursery helper, VBS helper, Junior Livestock Committee, Walk for Life, Gardener's Club and Girl Scouts. Megan also enjoys baking, cooking and gardening. Her parents are David and Stephanie Opperman of rural Lincoln.
---

The Nate Stuckey benefit will be Saturday, April 24, from 3 to 8 p.m. at the Lincoln Community High School.
In October of 2009, 4-year-old Nate Stuckey was diagnosed with acute lymphoblastic leukemia. His dad, Tim, is a science teacher and soccer coach at Lincoln Community High School. Sara, his mom, was a teacher at Washington-Monroe before deciding to stay at home with their three young boys. Since Nate's diagnosis, Tim and Sara have been taking him to St. John's Hospital for his ongoing treatment. The purpose of this benefit is to help the Stuckey family with expenses related to his illness and years-long treatment.
Please come enjoy a fun day that will help the Stuckey family!
Events:
3-8 p.m. -- Carnival games, inflatables and cakewalk

3-5 p.m. -- Face painting

3-7 p.m. -- Silent auction

5-7 p.m. -- Hot dog and chili dinner

6 p.m. -- Live auction
Carnival wristband: $5
Face painting: $5
Meal: $5, children 5 and under free
---
Got a good piece of news, information or something that we can all brag about? If you do, e-mail Mike and let us tell everyone about it. Plus you can win cash. Every submission, whether we use it or not, will get your name in the Close Up grab bag. At the end of the month we will draw a name and someone will get $25 just for dropping us an e-mail. If you wish, we will be happy to donate your winnings to the organization of your choice.
You can contact Mike at mikefak@lincolndailynews.com.
[MIKE FAK]