FFA plant sale, Draw 4 Carroll Catholic, LaDonna Gass and the Whistle Stop Library, Brett Montgomery, San Jose United Methodist Women, and Atlanta MS fundraiser in Close Up
By Mike Fak
[April 20, 2010] The Lincoln FFA chapter will have a plant sale, a first for the group, on Thursday, April 22, from 3:30 to 6:30 p.m. in the high school agriculture shop, by the greenhouse. They have a huge selection of annuals and perennials. They also have vegetables and hanging baskets. In addition, they have wave petunias, vinca and verbena in numerous colors. The prices are low and bulk discounts are available. Come out and see all the flowers that the agriculture students have worked hard to raise.
---

The monthly drawing winners for the Draw 4 Carroll Catholic that took place April 18 at Carroll Catholic School were as follows:
$1,000 winner, Judy Haseley;
seller, Brian Lee

$500 winner, Tom Tiffany;
seller, Holy Family

$250 winner, Amy Gallagher;
seller, Jack Kuznik

$100 winner, Brian Call;
seller, Ray and Lisa Treuthart
---

LaDonna Gass had a dream for years of opening a public library in Emden. In 2006 she approached Mayor Ivan Rademaker about using the old freight depot to house books for the community. The mayor and city officials agreed, and as they say, you can "book" the rest of the story. The Whistle Stop Library opened in May of 2007 and relies strictly on donations of both funds and books. The biggest problem facing the library was that its foundation was crumbling and had to be completely replaced before any other repairs could be done. Gass had been gathering donations, but in hard times money is tight. She is elated to report that the Danner Trust out of the Mount Pulaski Public Library has given a sizable donation to the Whistle Stop Library, which now means the foundation can be replaced.
The mission of the Danner Trust is to aid and encourage financially the development, restoration, preservation, maintenance and exhibition of historical facts, data, documents, relics and buildings of historical significance or interest for Logan County.
---
The 1st State Bank of Mason City and Illini Central High School are pleased to present Brett Montgomery with the March Student of the Month Award. For demonstrating outstanding character, Brett receives a $50 savings bond from 1st State Bank and a reference work appropriate to his course of study from the Illini Central High School faculty.
Brett is the son of David and Kathy Montgomery. His classes this year are Human Physiology, Spanish IV, Accounting, Physical Education, Writing for College and Careers, Agricultural Mechanics, and Resource Management.
In addition, Brett participates in several extracurricular activities. He is a member of Spanish Club and the Family Career and Community Leaders of America. He also plays on the golf, basketball and baseball teams.
Outside of school, he is involved with his church youth group.
Brett plans to attend Southern Illinois University in Edwardsville.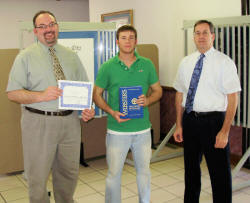 Left to right: Ed Jodlowski, principal; Brett Montgomery; Bob Werner, executive vice president of 1st State Bank of Mason City
---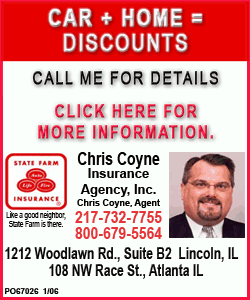 The San Jose United Methodist Women will host their annual May breakfast on Wednesday, May 5, at 9 a.m. in the church Fellowship Hall. The event is open to the public.
Following the breakfast, a program will be presented by "Two 4 Him and Charlie," a Christian vocal group. Members are Mary Caldwell, Carol Himmel and Charles Nelson.
Carol Himmel, wife of Robert Himmel, lives in rural Havana. She is a dental hygienist for Dr Conour in Springfield and is very active in her church in music ministry.
Charles Nelson, husband of Deb Nelson, lives in Mason City and is a retired music teacher. He is organist at St. Barnabas Episcopal Church in Havana.
Mary Caldwell, wife of Jerry Caldwell, lives in Mason City. She is also a retired music teacher and is very active in church choral and bell choirs and community choral groups.
Carol, Charlie and Mary all share a love of music. More importantly, they share a love of music through a Christian ministry.
There is no charge for the breakfast. Reservations may be made by calling Lucille Albers at 309-247-3450 or the church at 309-247-3232 by Monday, May 3. An offering will be taken to support Cunningham Children's Home in Urbana.
The San Jose United Methodist Church is located at 600 S. First St., at the corner of First and Linden, in San Jose.
---

MS fundraiser to be held at Mirm's Bar & Grill in Atlanta on Saturday, April 24. Lunch will be from 11 a.m. to 2 p.m. The lunch will be a barbecue pork chop sandwich and two sides at $5 per plate.
There will be a 50/50 drawing and the winner need not be present to win.
For prize raffles, the prizes include items from Atlanta Golf Course, NAPA, Qik-n-EZ, limited edition Cardinals baseball and more. Winner need not be present to win.
The band 4 1/2 Men will donate their time from 7 to 10 p.m. but will stay later if the crowd wants. This is a multi-timed party. Come out and help wipe out the most disabling disease of young adults there is. If you have questions about the day, call 737-1012.
---
Got a good piece of news, information or something that we can all brag about? If you do, e-mail Mike and let us tell everyone about it. Plus you can win cash. Every submission, whether we use it or not, will get your name in the Close Up grab bag. At the end of the month we will draw a name and someone will get $25 just for dropping us an e-mail. If you wish, we will be happy to donate your winnings to the organization of your choice.
You can contact Mike at mikefak@lincolndailynews.com.
[MIKE FAK]