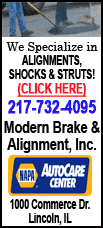 According to Illinois law, 10ILCS 5/7-61 or 5/8-17, the members of the Republican Central Committee of the vacant county board district have the authority to nominate a Republican candidate to fill the vacancy. That candidate shall file a minimum of 11 signatures, gathered from residents within the district, with the Logan County clerk by April 19.

The eight Republican precinct committeemen representing District 3 met on April 1 to slate a candidate. Precincts within the district are Aetna, Oran, Laenna, Chester, and Mount Pulaski 1, 2, 3 and 4. The Lake Fork precinct Republican committeeman position remains vacant and did not participate.
Meister circulated petitions, pursuant to 10 ILCS 5/7-10.2, 8-8.1 or 10-5.1, and obtained more than the minimum 11 signatures required. Those petitions, along with a statement of candidacy, the resolution to fill a vacancy and the certificate of the county committee organization, were filed in the Logan County clerk's office.
Meister, a lifelong resident of Mount Pulaski, will receive his bachelor's degree in political science from the University of Illinois Urbana-Champaign in May. He also has a minor in history.
Meister is no stranger to government and public service. He has worked for both U.S. Rep. Aaron Schock, (R-18th Congressional District) and for former congressman Ray LaHood. In addition, Meister has experience in retail sales and has worked in construction for five years.
"Andy will be a great addition to the Logan County Board," says Dave Bender, chairman of the Logan County Republican Party. "His family has deep ties to Logan County, to agriculture and to public service."
In addition, "it is Andy's generation who will be responsible for achieving and maintaining the county's solid fiscal standing for the next 20 years," Bender said. "Andy is the best person to get that started."
[Text from Logan County Republican Central Committee]