Late in 2009, it was noticed that the trunk of the tree was split, posing a danger to park patrons and those who used the parking along Kickapoo and Pekin streets.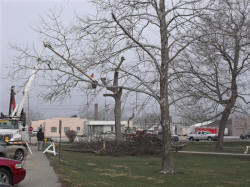 The city street and alley department provided barricades to keep pedestrians and vehicles from getting too close to the ailing tree, and in March of this year it was cut down.
Latham Park belongs to Logan County, but Tracy Jackson, head of the city of Lincoln forestry department, said he had told the county that if they would take the old tree down, the city would put in a new one as a part of their annual Arbor Day observance.
Wednesday afternoon, a small group representing both the city and the county gathered to officially plant this year's Arbor Day tree, a red maple.
Jackson said that the young tree will grow to an eventual height of about 60 feet and will take approximately 30 years to reach full maturity.
Those who assisted with the planting were the city council members from Ward 3, David Armbrust and Joni Tibbs; county board representatives Jan Schumacher and Bret Aukamp; along with help from the city's assistant street superintendent, Russell Wright, with oversight from Jackson.
The city of Lincoln has long held a designation of a "Tree City" and is recognized as such by the National Arbor Day Foundation.
To maintain the Tree City status, there must be a designated city official or volunteer tree advocate who has authority over the management and care of the city's urban forest; must have a community tree ordinance that specifically recognizes the designated tree authority and identifies urban forest management and tree care standards that the community will abide by; expend $2 per resident for its urban forestry program; and conduct an annual Arbor Day tree planting ceremony.
As the planting progressed, Schumacher was heard to say that she felt it was really nice that the city and county could work together on this project.
[By NILA SMITH]