Elks Country Club, Naomi-Ruth Circle, Lane Brickey, United Way and Logan County Dept. of Public Health in Close Up
By Mike Fak
[April 23, 2010] Lincoln Elks Country Club Lodge 914 will conduct a cooking class Tuesday, April 27, led by clubhouse manager Ron Nailer. Class will be in the ballroom, with a maximum class size of 60. Sign up in the lounge or call 732-9362, ext. 111. The cost is $25 and includes appetizer-style samples of the food presentations and one glass of wine.
---

All ladies are invited to the upcoming Naomi-Ruth Circle-sponsored "Women in Friendship" Spring Tea that will be held on Sunday, April 25, at 4 p.m. Elaine Ray of Lincoln is featured for the program, which is entitled, "Kutz Cloz & Hats" (pronounced Cutzie Clothes and Hats). Ladies are also encouraged to wear a hat or Easter bonnet to the event and share the story behind their hat. A freewill offering will be accepted. Please call Erin Eeten, 642-5328, or Kathy Rohlfs, 376-3120, for reservations.
---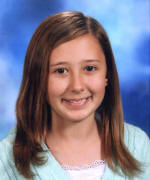 Lane Brickey, daughter of Doug and Jennifer Brickey, was named student of the month for March at Chester-East Lincoln.
Brickey, who is a fourth-grader, was chosen from a list of nine students.
The others up for the honor were Evan Maynard, Devyn Fry, Zachary Fuller, Brookelyn Roach, Robbie Gaston, Avery Birnbaum, Brock Bunner and Kiersten Meagher.
The program encourages students to display qualities of self-control, self-discipline, respect, leadership and a positive attitude.
---

The following people are members of the 2010 board of directors of the United Way of Logan County: Mary Beth Jackson, president; Angie Bossingham, vice president and campaign chair; Sandy Meinershagen, campaign co-chair; Mary Elston, recording secretary; Mike Fak, treasurer; Sheila Nelson; and Wally Reifsteck. Patti Becker, Heidi Brown and Dave White are new to the board this year. Lois Leonard is director. Her office is located in the Farm Bureau Building, 120 S. McLean in Lincoln. The United Way looks forward to an eventful year. You will see them at the Logan County Fair, Lincoln Art & Balloon Festival and selling raffle tickets throughout town.
---
The Logan County Department of Public Health celebrated the 16th National Public Health Week April 5-11 with an employee appreciation lunch on April 8 in the Alumni Room at the Lincoln College dining hall. This year's National Public Health Week theme was "A Healthier America: One Community at a Time." The theme underscores the almost inseparable bond linking healthy individuals and healthy communities to a healthy nation. Healthy communities can improve the quality of life for all who live, work, worship, learn and play there -- so that every person can make healthier choices.
During lunch, health department employees were honored for their public health service to the community, and those reaching service milestones were presented with certificates of appreciation.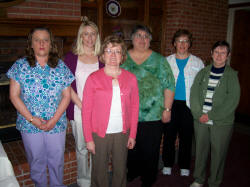 The employees receiving service certificates were (back row, left to right) Suzie Billington, CNA, 20 years; Heather Vose, five years; Debbie Hoover, R.N., MA-C, 20 years; Kenda Jones, R.N., 20 years; and Jan Hashman, 15 years. In addition, Marcia Dowling, R.N., (front) received a certificate of excellence for her 25-year contribution to the Community Health Fair.
---
Got a good piece of news, information or something that we can all brag about? If you do, e-mail Mike and let us tell everyone about it. Plus you can win cash. Every submission, whether we use it or not, will get your name in the Close Up grab bag. At the end of the month we will draw a name and someone will get $25 just for dropping us an e-mail. If you wish, we will be happy to donate your winnings to the organization of your choice.
You can contact Mike at mikefak@lincolndailynews.com.
[MIKE FAK]