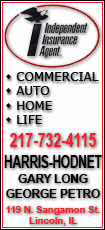 His father, who passed away in May of 2009, not only owned and operated the dealership, but was involved with innumerable community projects and organizations for decades.

Bob was a member of Holy Family Catholic Church in Lincoln, where he served as trustee and Eucharistic minister. He was also a member of the American Legion, Lincoln Elks Club, Lincoln Rotary Club and Knights of Columbus, Fourth Degree. Bob was president and charter member of the Lincoln Jaycees, and president of the Abraham Lincoln Memorial Hospital board of trustees.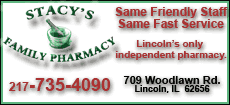 He served as president of the Lincoln/Logan County Chamber of Commerce and chairman of the chamber's tourism committee as well. Bob had served as a member of the executive council of the Logan County Cooperative Extension and was a 10-gallon contributor to the Red Cross blood bank.
With all these community services and support of countless community events, Bob was named a Paul Harris Fellow through Rotary International in April of 1989, Rotarian of the Year in 2006, Lincoln Courier Citizen of the Year in 1991 and the Lincoln Jaycees Citizen of the Year in 1992.
Bob also took time to make his beloved dealership as good as it could be, steadily winning sales and service excellence awards that continue to this day under Chris' guidance. In 1978, the business received the prestigious Time Magazine Quality Dealer Award.
Bill Gossett, who became friends with the family after the Korean War, said: "Bob has left a legacy of community involvement that other businesses should strive to achieve. He was a successful businessman, but he was also a community leader that gave back as much as he received."
Indeed the dealership, now under Chris' direction, follows an age-old mantra of supporting a community that supports the business. In modern times this concept is often lost by corporations and businesses, but that isn't the case at Graue Inc.
Chris Graue obviously received his love of the car business as well as the community from his father and mother Joan Graue, and continues to make the Graue name an integral part of Logan County.
Chris said that early on he had the car business in his blood. Starting as early as fourth grade, Chris came to the store as often as he could with his father.
"On school days off, school vacations, every Saturday, you name it, I never stayed home. There were no snow days for me," he said. "If there was no school, I came to work with dad."
Chris said early on he did whatever was needed, from cleaning cars to mopping the shop or whatever else, and he was paid with a soda and candy bar. Later on, as Chris got older, his dad would pay him a few dollars out of the petty cash for his efforts.
When Bob began to slow his involvement in the business and community, Chris said his father insisted he be involved, and to take his place as a Rotarian, which Chris has done with accolades from members for the past 12 years.
Chris has to be judicious with his personal commitments, as do all busy community leaders, and his primary concentration is with the Scouts. Two of Chris and his wife Phyllis' children, Ethan and Jackson, are Scouts, and Chris is extremely active with Troop 102, giving not only his time as an assistant scoutmaster but financial help as well.
Chris thinks scouting is an exceptional organization, not only for young men to be involved with but adults as well. He readily recites the Scout pledge, which he feels sums up how one should live their lives.
The Scout pledge is:
"On my honor, I will do my best
To do my duty to God and my country
and to obey the Scout Law;
To help other people at all times;
To keep myself physically strong,
mentally awake, and morally straight."
"I have made so many lasting relationships in Scouts. It's like a second family," Chris said.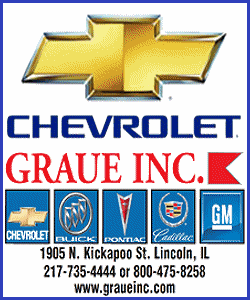 Chris and Phyllis also have a daughter, Olivia, and they support her and her activities as well.
As she grows older Chris said he will support their daughter's endeavors as he does his sons' and the Scout troop now.
Chris has continued the family legacy of supporting the chamber of commerce and sees the chamber becoming more and more active in the community.
"The chamber is becoming more than just an event organizer," he said.
Andi Hake, the director of the chamber the last two years, says Graue Inc. is a staunch supporter of the chamber.
"I think Chris is among the most generous people in the community," she said. "I have a tremendous amount of respect for him as a businessman and his efforts to support the community outside of his business."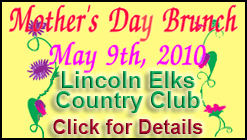 Graue Inc. is a gold-level chamber member as well as supporting the annual Lincoln Art & Balloon Fest and other chamber activities and programs, including the Ag Day Breakfast.
The Graue commitment to community is ever present with matriarch Joan Graue as well. Joan is currently on the library board and continues to support Main Street and other worthwhile causes. Joan received an award of excellence from Main Street this winter for her continued efforts to promote their program.
Employees of Graue Inc. also are involved in many church and community projects. The latest is the planning of a golf outing for cancer in memory of former employee and friend Laszlo Poszgai, who lost his life to the disease last year.
Graue Inc. also does little things to support community fundraisers. On Saturdays, the company buys lunch for everyone on duty.
"We get takeouts from fundraisers. Why not? We help a good cause by doing that and we are going to buy lunch anyway," Chris said.
When Lincoln Mayor Keith Snyder was advised that our Personality of the Week was Graue Inc., he was delighted to add: "This is a great choice. The Graues are one of the great families in Lincoln. Bob, Joan, Chris, all the Graues do so much for the community. On any community project you can count on them to be involved."
The complete list of organizations, churches, schools and fundraising activities that Graue Inc. has been involved in over the past half-century could never be included in one story. It would take a book to write all that the Graue name has meant to Lincoln and Logan County. In the meantime, we proudly note today that Graue Inc. is our Personality of the Week. And no family or organization could deserve the distinction more.
[By MIKE FAK]