Arthur Gehlbach

Send a link to a friend
[April 30, 2010] LINCOLN -- Arthur T. Gehlbach, 97, of Lincoln, died Thursday, April 29, 2010, at Abraham Lincoln Memorial Hospital.
Visitation will be from 9 until 10:30 a.m. Tuesday, May 4, at Holland Barry & Bennett Funeral Home in Lincoln. His funeral will follow at 10:30 a.m.

Burial will be in New Union Cemetery.

Mr. Gehlbach was an auto body repairman and began working at the Chevy garage in 1935. He eventually became the owner and operator of Art's Auto Body.

He was born Feb. 14, 1913, in Lincoln. His parents were Edward P. and Goldie A. Thompson Gehlbach. He married Harriet Rule in 1941. He later married Ruth M. Baker in 1967, and she preceded him in death on Nov. 4, 1999.

He is survived by his son, Edwin Gehlbach of Springfield; two sisters, Virginia Splain of Morris and Lois Hayes-Kavelman of Decatur; and one brother, Robert Gehlbach of Lincoln.

He was also preceded in death by one brother, John.

He was of the Baptist faith. He was a charter member of the Moose club in Lincoln, helped to organize the Railsplitter Antique Auto Club in 1966, and was a 50-year member of Lincoln Lodge 204 IOOF, serving as their treasurer for 14 years.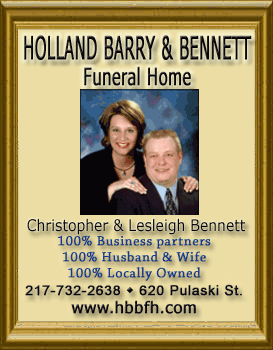 Memorial donations may be made to Salvation Army or Railsplitter Antique Auto Club and will be accepted at the funeral home.
Click here to send a note of condolence to the Gehlbach family.