Park district notes
From Roy Logan, program coordinator

Send a link to a friend
[August 13, 2010] Lincoln Park District invites anyone interested in learning the game of pickleball to join us on Wednesday, Aug. 18, at 10 a.m. We'll meet on the indoor tennis courts. Some equipment will be provided for the first session. This first session will be free for all the players.
Pickleball is a simple paddle game played with a special perforated, slow-moving plastic ball over a tennis-type net on a badminton-sized court. The ball is served underhanded, swinging the paddle below the waist, without bouncing it from the court. The ball is served to the service zone on the opposite side of the net. Points are scored by the serving side only and occur when the opponent faults. The server continues to serve, alternating service courts, until the server faults. A game is won by the first team that scores 11 points, but play must continue until one team achieves a two-point margin.

Further rules and an explanation of how to play the game will be covered.

This is a very popular sport in many retirement communities.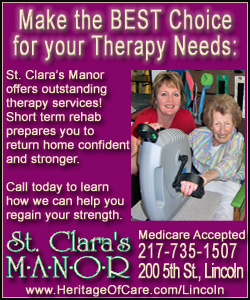 As summer winds down, so does the availability of the pool. Our end-of-summer hours will be 11 a.m.-1 p.m. Monday through Friday beginning Aug. 19. We will still offer family swims on Tuesday and Thursday evenings. Our weekends will remain regular hours.
[Text from file received from Roy Logan, Lincoln Park District]