Comcast public meeting, winners of Original Farmers' Market baskets, YMCA Bike Blast, United Way and Dick Logan fundraiser make Close Up
By Mike Fak
[August 20, 2010] The city of Lincoln will hold a public meeting on Tuesday, Aug. 24, at 6 p.m. in the city council chambers. The purpose of the meeting is to evaluate Comcast services pursuant to the franchise agreement. Written comments from people unable to attend will be accepted until the conclusion of the meeting.
---

Winners of the weekly basket drawing from the vendors of the Original Farmers' Market in Latham Park for the past three weeks are as follows: July 31, Deb Ackerman of Lincoln; Aug. 7, Betty Rogers of Beason; and Aug. 14, Liz Kingsley of Lincoln.
The farmers market in Latham Park runs on Wednesday evenings from 3:30 to 6 and on Saturdays from 7 to noon.
---

The Lincoln Area YMCA will host its annual Bike Blast on Saturday, Aug. 28. The event is for all ages. There is a 30-mile course for the bicycle enthusiast and a family-friendly five-mile in-town ride. Ages 17 and under must be accompanied by an adult. Rides start at the YMCA Activity Center on Wyatt Avenue. Registration is at 8 a.m. and the rides begin at 8:30. Register before that day and you save entry fee money. Fliers are available at the Y, at Fitness Balance or check online at www.lincolnymca.org.
---

The United Way of Logan County will be at Scully Park all day Saturday, Aug. 28, selling raffle tickets for this year's Lincoln IGA grocery drawing. The prize is $500 worth of great IGA groceries. Tickets are only $1 and six for $5.
The United Way table will be located at the northwest corner of the park. Come help support a great cause and win a truckload of groceries. The United Way of Logan County has pledged assistance to 13 area agencies for the 2011 year.
---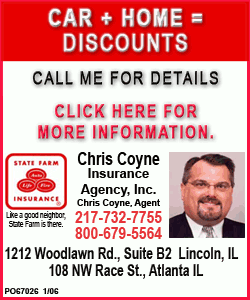 Dick Logan, longtime county board member and lifelong Lincoln resident will be returning to Lincoln on Sept. 19 to see all his friends. The Knights of Columbus is organizing a fundraiser at the hall, and as plans are developed and readied, LDN will let you know what you can do to help. For right now, keep the date open and plan on visiting Dick on Sept. 19.
---
Got a good piece of news, information or something that we can all brag about? If you do, e-mail Mike and let us tell everyone about it. Plus you can win cash. Every submission, whether we use it or not, will get your name in the Close Up grab bag. At the end of the month we will draw a name and someone will get $25 just for dropping us an e-mail. If you wish, we will be happy to donate your winnings to the organization of your choice.
You can contact Mike at mikefak@lincolndailynews.com.
[MIKE FAK]