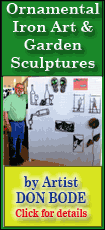 Venetia Shaffer opened her new and used bookstore on the downtown square approximately six years ago. The store was on the square for about two years, and then she moved it to a location on Broadway, next to what is now Absolute Harmony.

Shaffer said she kept the doors open there for another two years, but the business wasn't able to support the electric bills, so she finally made the decision to shut it down.

Shaffer said she had inventory left over after closing the store, and recently she decided that she had two options: either sell her inventory at auction or give the store another go, and she decided to give it another go.

The store offers primarily paperbacks, both new and used. Shaffer said she finds her good used books at a variety of places including garage sales, library sales and thrift shops.
Her new books primarily come from an overstock market that she shops at in Chicago, and she offers several new titles.
Shaffer said that in general, her books are about half-price to what one will find in a chain-brand bookstore.
In addition to selling books out of the storefront, this time around Shaffer is also doing online sales through Alibris, Abe Books and Amazon. She said that is where she lists many of her collectible books.
Collectible books, especially in the genre of science fiction and fantasy, fetch some pretty good prices online.
She notes that right now she has collectibles such as "Tom Swift and his Rocket Ship," which was written in 1954 by Victory Appleton II and is one of a vast series of Tom Swift books targeted to the younger market. Shaffer said that as a collectible, this book will sell for $10 to $12 online because it is no longer in print.
This time around, Shaffer is also expanding her business to include items other than books.
She is currently offering catalog sales of Herbalife products, which she says she uses and believes in. Eventually she will offer a line of these products in the store.
Shaffer said that the company offers a complete line of products, including garlic supplements, vitamins and a really terrific protein shake mix she has used herself quite often. The shake mix offers soy proteins, carbohydrates, vitamins, minerals and herbs and all the essential amino acids needed for sound nutrition and good health.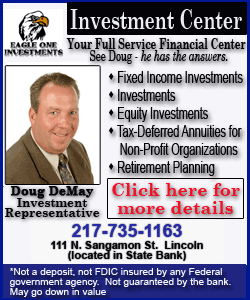 Other items she is offering include Southwestern ceramics, "flattened" bottles by local artisan Jane Thompson and an assortment of handmade candles that come from Shaffer's daughter, Sarah Kern.
Flattened bottles are becoming a popular art form. The bottles are made by baking at very high temperatures. As the glass heats up and melts, the bottles flatten themselves out naturally. Flattened bottles have a variety of display options including using them as paperweights or hanging them as sun catchers.
The candles offered by Kern are jar candles in a variety of scents.
In addition to all this, currently Shaffer is also offering a selection of inspirational pocket cards and CDs of eclectic music.
Now and Then Books is located on the west side of the downtown square in Lincoln, next door to the Main Street Lincoln office. The store hours are Monday through Saturday 10 a.m. to 5 p.m.
While the first few Business Spotlights have shone on businesses that have achieved a certain amount of success, this time around, we want to shine the light on an old friend who has returned to the downtown area and wish her all the best.
If you knew Now and Then Books before and enjoyed shopping there, we hope you'll rekindle your interest in this business, and if you've never been but love to read, we hope you stop in and check out the rows and rows of titles that Shaffer has available.
[By NILA SMITH]